With Russian warplanes in the air and Iranian special forces on the ground, an emboldened Syrian President Bashar al-Assad is turning back to the biggest trophy in his country's civil war, and this time Europe is also on the front line.
As his troops head toward Aleppo, Syria's former commercial hub and largest city, helicopters are dropping warnings to residents to vacate areas. Should Aleppo and other Sunni towns fall to Assad's forces, the potential for another, larger, wave of refugees would be nightmarish, according to one official in a European government.
The province is roughly divided between Assad and the militants. If they see government forces advancing, Syrians "who have been on the fence will be convinced that it's time to go," said Ghanem Nuseibeh, founder of London-based consulting firm Cornerstone Global Associates. "You would expect another wave of refugees to try to head toward Turkey and eventually to Europe before the regime closes the border," he said.
More than four years of fighting has displaced 7.5 million people within Syria and turned it into a country that exists only in name. For the U.S., the question is how much political and military capital it wants to pour into another Middle Eastern country, while rivals Russia and Iran take advantage of its reticence to prop up their ally in the region. Europe meanwhile is faced with one of the biggest geopolitical challenges in decades as hundreds of thousands of Syrians seek haven.
Divided Europe
The number of migrants who arrived in the European Union in the first nine months of 2015 is already more than twice the total during the whole of last year, and another 2 million are still in Turkey, the main transit route between Syria and the EU's southeastern frontier.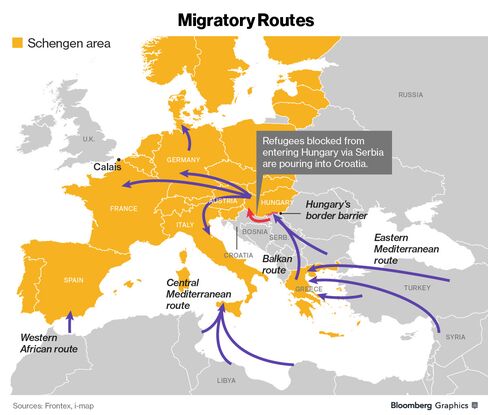 "Syria may be beyond any solution," said Anthony Cordesman, a Middle East analyst at the Center for Strategic and International Studies in Washington. "Half the remaining population has escaped the war zones and they lack jobs or homes. Many of the towns have suffered a great deal of damage."
Assad is looking to consolidate his hold over the swathe of Syria he controls. The prize for the Syrian government and its allies will be Aleppo also because of its proximity to the Turkish border.
Taking it would give Russia, Iran and Assad more bargaining power at any future settlement talks and more say in how the region will be redefined. A European official said that one of Putin's goals is to present Europe with a Syria dominated only by two main groups — Assad and Islamic State — and ask the west to choose which one to support.
Amassing Troops
That's not to say Aleppo is likely to fall any time soon despite what U.S. security consultancy Soufan Group calls a gathering of armies never seen before in the civil war.
The Lebanese Al Akhbar newspaper also said the Syrian army and its allies have brought in "unprecedented" military reinforcements to the Aleppo countryside. It said local sources reported that army helicopters have dropped leaflets over several towns and villages telling people to leave.
"A far more difficult battle awaits all sides in Aleppo," the group said in a report last week. "The area is hotly contested by a number of extremist and rebel groups."
Four Cities
Assad's rule has shrunk after more than four years of war in which the Kurdish minority carved up an autonomous area in the north, Islamic State sliced off the east and part of central Syria and mostly jihadist Sunni rebels got the rest.
The 50-year-old president's portion of the country covers roughly a quarter of Syria and includes around 60 percent of its population. It runs from Sunni cities Damascus, Homs, Hama and part of Aleppo up to the coastal cities of Latakia and Tartus, where the Alawites, an off-shoot of Shiite Islam to which Assad belongs, are concentrated.
Russia has reinforced Assad in Latakia, with President Vladimir Putin being hailed by as the savior from Islamic State among locals and in glowing editorials in state-run Syrian newspapers. Russia has stepped up its air strikes, conducting almost 90 bombing raids in one 24-hour period.
"Syria is the four cities: if you own them, you own Syria," said Joshua Landis, director of the Center for Middle East Studies at the University of Oklahoma. "I suspect that the government believes that if they can own the four cities and win over the urban population, the countryside will eventually have to fall in line."
Sectarian War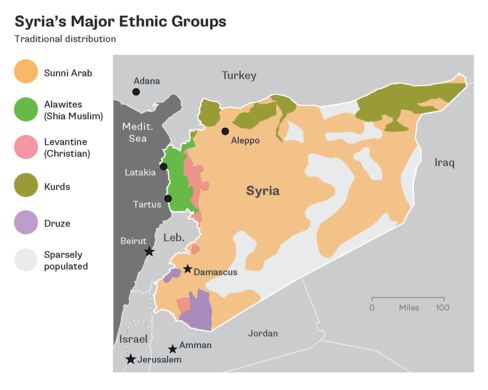 Hundreds of Iranian forces have been streaming into Syria to help with the offensive, according to the Syrian Observatory for Human Rights, which monitors the Syria war. Iran, via its state news agency, denies sending regular soldiers to Syria.
Iranian-backed militants, including fighters from the Lebanese Hezbollah group and Iraqi militias, support Assad's troops. Shiite Iran has also helped the government with oil and credit and, along with Russia, sustained it militarily.
"This larger war of Sunnis versus Shiites is only at its beginning," said Landis. "If you create a rump state that includes all the Sunni cities, you still have this fundamental problem: who is going to rule, Sunnis or Shiites? It doesn't solve the problem."