A rally in commodity producers pushed European stocks for their biggest gains since August.
The Stoxx Europe 600 Index advanced 3 percent at the close of trading in London. Glencore Plc jumped 21 percent, the most since its 2011 initial public offering, after soaring as much as 72 percent in Hong Kong trading as analysts said the concerns around the commodities company's solvency are unjustified. The London shares have regained two-thirds of their value since last week's record low. Energy producers had their biggest five-day rally since 2009, up 12 percent.
"It's playing a little bit of catchup as the outlook for the rest of the year improves," said Patrick Spencer, equities vice chairman at Robert W. Baird & Co. in London, referring to the benchmark index for European stocks. "Interest rate hikes for the moment are off the table. Plus you've got an accommodative ECB and the third quarter-earnings outlook looks reasonable."
The Stoxx 600 ended 0.5 percent higher on Friday, erasing losses of as much as 0.9 percent, as a weak employment report in the U.S. fueled speculation that the Federal Reserve will delay its interest-rate increase. Traders are now betting it will happen next March.
Optimism is returning to European equities after the Stoxx 600 lost as much as 18 percent from its April record. It reached its lowest level since January on Sept. 29 as concern grew that a slowdown in China will hurt the global recovery, while plunges in Volkswagen AG and Glencore further sapped sentiment. An exchange-traded fund tracking European stocks had a record $462 million in outflows last week, and trading of bearish options jumped.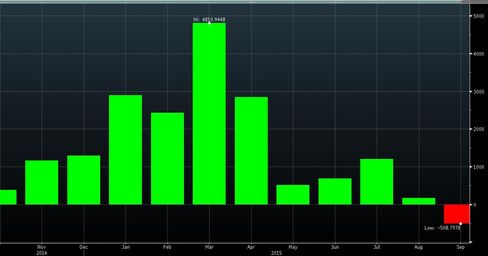 ArcelorMittal climbed 8.7 percent after its chief financial officer projected an increase in steel demand in Europe, while Citigroup Inc. recommended buying the stock. Telenor ASA rose 3.5 percent after saying it will divest its stake in VimpelCom Ltd. to focus on markets such as the Nordic region. Volkswagen reversed a decline and gained 1.3 percent.
K+S AG slumped 25 percent as Potash Corp. of Saskatchewan withdrew its 7.85 billion-euro ($8.8 billion) proposal to buy the German company.
Portugal's PSI 20 Index added 3.5 percent after a weekend vote. The nation's ruling coalition, which has implemented tax increases and spending cuts over the past four years, won the nation's first general election since regaining its economic sovereignty.