After its steepest losing streak on record, Japan's yen is poised to seize the crown of best-performing major currency from the dollar in 2016, according to two of the biggest U.S. investment banks.
JPMorgan Chase & Co. and Morgan Stanley predict Japan's currency will outstrip all its peers next year, halting a 40 percent decline over the past four years versus the greenback. The nation's growing current-account surplus is blunting the Bank of Japan's ability to weaken the exchange rate through monetary stimulus, and the government will increasingly rely on spending and reforms to boost the economy instead, they say.
"We think the yen is going to be stronger than the dollar," said Calvin Tse, the co-head of U.S. currency strategy for Morgan Stanley in New York. "We are relatively out of consensus in that we don't expect the Bank of Japan to announce any fresh, balance-sheet expanding, easing measures over the course of the next year."
While the consensus view is for the currency to remain close to the 13-year low of 125.86 per dollar reached in June, forecasts compiled by Bloomberg show that more than twice as many analysts predict yen gains to 120 or stronger through 2016 as did at the end of September. The median estimate is for it to fall to 125 by the end of next year as the Federal Reserve raises interest rates. It was at 123.08 as of 12:20 p.m. in Tokyo on Tuesday.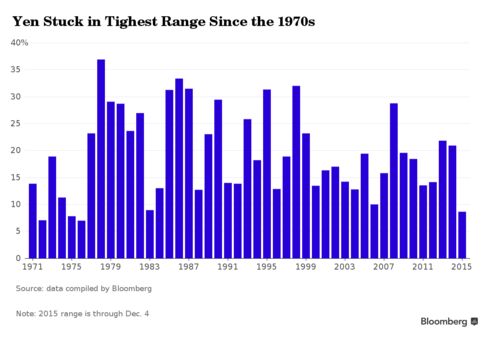 Divided Outlook
Morgan Stanley predicts the yen will strengthen to 115 per dollar by the end of 2016, while JPMorgan's call for 110 is the most-bullish forecast among more than 50 compiledby Bloomberg.
The estimates range from 110 to 135 yen per dollar, underlining the divide among forecasters. That contrasts with the currency's 10-yen trading range this year, which is the narrowest in percentage terms since 1976.
After falling against its 16 major peers in the three years to 2014, the yen has stabilized this year amid signs the BOJ may be done with expanding its unprecedented monetarystimulus program. Its almost 3 percent drop since last December is a fraction of its 36 percent slide from the end of 2011 through 2014.
"Next year, the yen will become the strongest currency among the Group of 10," said Tohru Sasaki, head of Japan markets research at JPMorgan in Tokyo. "It's a bit difficult to expect continuous yen depreciation just on monetary policy easing."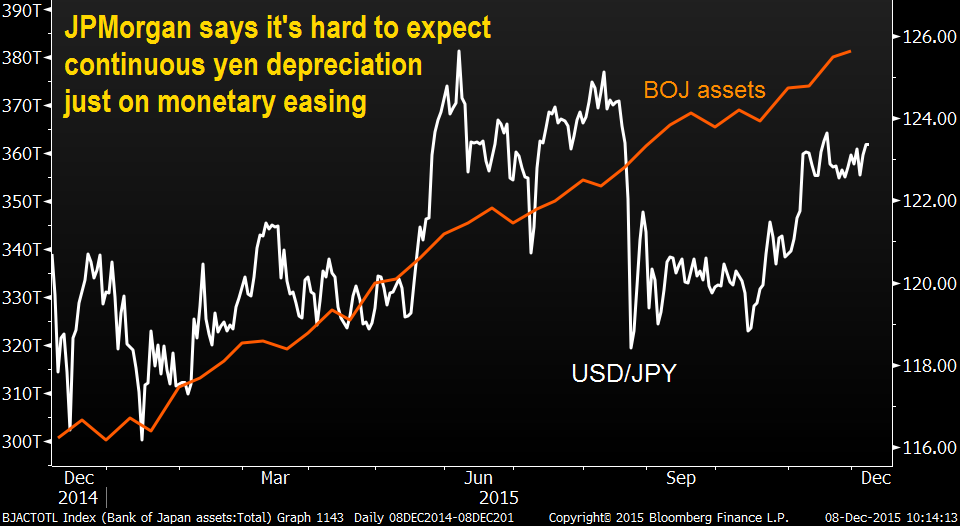 Forecasts by Sasaki's JPMorgan team and from Morgan Stanley have proved prescient before. Both banks predicted at the end of 2014 that the yen would trade at 123 in the second quarter, which it closed at 122.5 per dollar. By around mid-2015, they estimated that Japan's currency would move to 121 by Dec. 31, less than three yen away from its current level.
Corporate Effects
A stronger yen would hamper the central bank's efforts to boost inflation and threaten a run of record corporate profits that have spurred a four-year surge in domestic equities. BOJ Governor Haruhiko Kuroda shifted the focus for stoking inflation and growth to the government in May, saying stimulus "may help structural reform be implemented vigorously." He publicly called for wages to increase in line with company profits at least three times last month.
While the lower expectations for BOJ easing raise the risks for sharp, short drops in the yen, they also emphasize how the longer-term outlook is for a stronger exchange rate, according to Commonwealth Bank of Australia.
With many traders unprepared, a surprise increase to the BOJ's stimulus efforts this month or in January may weaken the currency by as much as six yen, said Sydney-based strategist Joseph Capurso. But any losses would be short-lived because of Japan's current-account surplus, he said, particularly as rising U.S. interest rates risk destabilizing emerging markets and stoking appetite for the yen as a haven.
Japan's finance ministry reported a 16th consecutive month of surpluses on the broadest measure of trade on Tuesday, as low oil prices and a weak currency boost income from overseas. The excess earnings make the yen less susceptible to overseas shocks, such as the third-quarter rout in emerging-market equities that saw the yen strengthen more than 2 percent.
"You have these short-term effects from the policy easing, but a huge current-account surplus tends to be a powerful driver for the yen, particularly during crises," said CBA's Capurso, who sees the yen ending next year at 119 per dollar. "History shows that the current account is the most important influence over the long run."