Royal Dutch Shell Plc reported its biggest net loss in more than a decade after halting some operations and lowering its oil-price expectations, resulting in a $7.89 billion charge.
The company, which is buying BG Group Plc in the industry's largest deal this year, reported a third-quarter net loss of $7.42 billion, compared with a profit of $4.46 billion a year earlier.
The charges include $4.61 billion resulting from the withdrawal from drilling in Alaska and an oil-sands project in Canada, and $3.69 billion triggered by cuts to its outlook for oil and natural gas prices. Shares of the company fell as much as 1.8 percent.
Adjusted for these one-time items and inventory changes, profit dropped 70 percent to $1.77 billion, The Hague-based Shell said Thursday in a statement. That missed the $2.92 billion average estimate of 17 analysts surveyed by Bloomberg.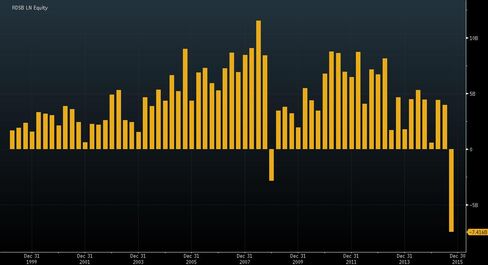 The loss increases the pressure on Europe's biggest oil producer, which has cut jobs and reduced spending this year as Chief Executive Officer Ben Van Beurden prepares the company for prolonged market stagnation. Crude's decline in the past 16 months has been brutal to the industry, driving down Shell's market value to the lowest this decade and prompting concern that it may be overpaying for BG.
"While our cash flow and our operating performance in the quarter were strong, the headline numbers we're reporting today include substantial charges," Van Beurden, 57, said in the statement. "These charges reflect both a lower oil and gas price outlook and the firm steps we are taking to review and reduce Shell's longer-term option set."
BG Deal
Average Brent crude prices fell 50 percent in the quarter from a year earlier to $51.30 a barrel, the lowest since 2009. Prices traded 0.8 percent lower at $48.67 a barrel as of 8:07 a.m. in London.
Shell halted its 80,000 barrel-a-day Carmon Creek oil sands project in Alberta, Canada, the company said this week. It walked away from drilling in Alaska in September after $7 billion of spending ended with a well that failed to find any meaningful quantities of oil or gas. The company's shares retreated to a six-year low after the decision.
The producer's B shares, the most widely traded, were 1.6 percent lower at 1,715 pence in London. The shares have dropped 23 percent this year.
Shell, which is buying BG for more than $70 billion, said in July the deal will add to cash flow at $67 a barrel in 2016. The acquisition, to be completed early next year, will give Shell deepwater assets in Brazil, boost its position in Australian gas and expand its access to the U.S.'s emerging liquefied natural gas export industry.
Thursday's earnings report "is a big clean up exercise ahead of the BG deal," Exane BNP Paribas analysts Jeremy Aston said in a note to clients.
Earnings Season
Eni SpA, Italy's largest oil producer, also reported a net loss for the third quarter on Thursday. France's Total SA posted a profit of $1.08 billion, 69 percent lower than a year earlier, as rising oil and gas production and growing profits from its refining operations helped to offset the slump in crude prices.
BG is due to announce earnings on Friday. Exxon Mobil Corp., the world's biggest oil company by market value, and Chevron Corp. are also scheduled to release results the same day.
BP Plc's third-quarter adjusted profit dropped 40 percent to $1.82 billion, yet itexceeded analysts' forecasts by 44 percent on higher earnings from refining and natural gas trading. Statoil ASA's adjusted net income fell 59 percent, missing estimates.