Sweden's government may miss its main election pledge of having the European Union's lowest unemployment by 2020 because of a record influx of asylum seekers.
When the target was introduced "we had no clue that we would end up in this situation," Employment Minister Ylva Johansson said in an interview in Stockholm on Wednesday. On the potential for a delay in reaching the goal, she said: "we're not there yet but that's how things may turn out."
The Social Democrat-led government is being forced to review some of its cornerstone policies after Sweden became a magnet for asylum seekers fleeing war zones in the Middle East. The country of 9.8 million people is accepting more refugees per capita than any other EU nation, while grappling with unemployment of more than 7 percent. Germany boasted the EU's lowest unemployment in September of 4.5 percent.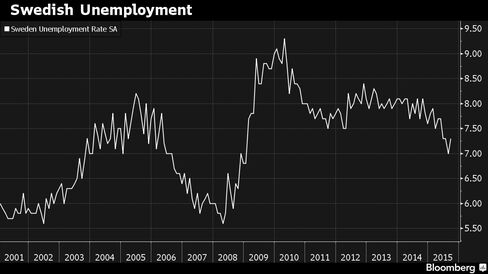 Finance Minister Magdalena Andersson has been accused of "slaughtering sacred cows" by SEB AB economists after signaling that she's considering abandoning a policy of financing all measures without borrowing more in the wake of the refugee crisis. She has also said the government may be forced to ask parliament to raise a spending ceiling for the first time since it was introduced in 1997, as costs tied to immigration rise.
While unemployment will decline in the short term because of measures to stimulate growth, the refugee crisis will in the longer term pose "a big challenge for labor market policy and education policy, to equip people and help matching them to the jobs available," Johansson said. "If we manage this well, fine, if we don't manage this well, we'll be in a very difficult situation."