Toyota Unveils Edgier-Looking Prius
Toyota Motor Corp. will stray from the iconic wedge shape of its pioneering Prius, giving its top-selling hybrid sleeker looks after almost seven years without a redesign.
The 2016 Prius, unveiled Tuesday in Las Vegas, features a lower hood and sharp creases that surround a rear spoiler and tail lights sloping down to the rear bumper. The fourth-generation Prius improves fuel economy by about 10 percent to about 55 miles per gallon. An Eco version will deliver an even bigger boost, padding its position as the most efficient car without a plug. Toyota will also offer driver-assist technologies like automatic braking.
"It's just gorgeous," Bill Fay, a group vice president for Toyota's U.S. sales unit, said on stage at an event for media and dealers. "It's a little bit lower, a little bit wider, and there's more interior room."
Toyota opted for sweeping design changes with Prius poised for its fifth consecutive year of global sales declines, to less than half the model's peak in 2010. The new version debuts as Americans pay as much for gasoline as they were in 2009, reducing the urgency for consumers to prioritize fuel savings. Trucks and SUVs have outsold cars in the U.S. by more than 1 million vehicles this year through August.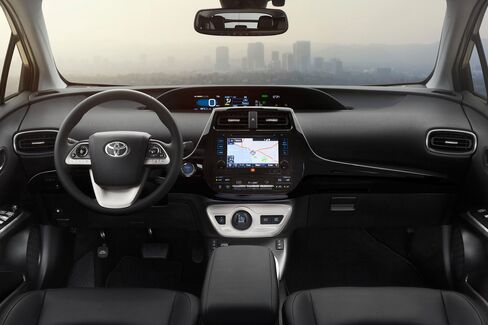 Cheap Gas
"The Prius is not launching at an ideal time," Eric Lyman, vice president of industry insights for online shopping site TrueCar Inc., said in a statement. "Gas prices are low and should remain low for the remainder of the year. Prius sales and gas prices have been directly related."
Sales will begin in Japan before the end of the year.
Since Toyota first sold Prius in the U.S., more options have emerged for consumers looking to spend less on fuel or part ways with the gas pump entirely, from the plug-in hybrid Chevrolet Volt to the all-electric Nissan Leaf and Tesla Model S. Toyota also is introducing new hydrogen-powered fuel-cell autos along with Hyundai Motor Co. and Honda Motor Co.
"Competition in the alternative-fuel space is fiercer than ever, especially with plug-in variants," Lyman said, including the Ford C-Max, Honda Accord and Audi e-tron. "With the competitive set expanding and gas prices staying low, it will be tougher for the fourth-generation Prius to make the splash its predecessors did."
The Prius first went on sale in Japan in 1997 and became synonymous with the concept of hybrids, paving the way for alternatives to traditional gasoline-burning engines.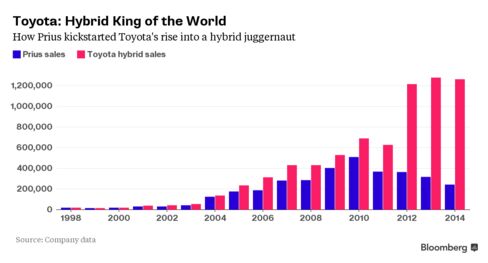 Toyota's last redesigned Prius went on sale in 2009 during the depths of the recession and established the car as a juggernaut. It became the first gasoline-electric vehicle to sell 500,000 units in a year. By 2011, Toyota expanded the Prius line from the original five-door hatchback to include wagon, compact and plug-in versions, thrusting the model line into the position of top three in the world, behind only Toyota's Corolla and the Ford Focus.
The addition of hybrid competitors from within Toyota's own lineup contributed to global sales of the main Prius model falling to less than 250,000 in 2014, an eight-year low. Deliveries plunged 23 percent during the first seven months of this year.
The revamped Prius arrives as Toyota begins taking U.S. orders for the Mirai, its hydrogen-powered sedan. Toyota sees fuel cells, as opposed to plug-in electric vehicles, as the automotive technology of the future.
The 2016 Prius will be the first model to implement Toyota's companywide effort to cut development costs by 20 percent through sharing platforms, parts and powertrains across its lineup