The British government said it plans to sell at least 2 billion pounds ($3 billion) ofLloyds Banking Group Plc shares to households early next year.
The government plans to "fully exit" its Lloyds stake "in the coming months," according to a statement on Monday. Members of the public will be offered a discount of 5 percent of the market price, with a bonus share for every 10 shares if they hold their investment for more than a year, the government said.
Chancellor of the Exchequer George Osborne is seeking to return Lloyds to full private ownership after the government spent 20.5 billion pounds rescuing the lender during the financial crisis of 2008. The British government earlier this year also started selling shares in Royal Bank of Scotland Group Plc, the country's most expensive bailout.
"I don't want all of those shares to go to City institutions," Osborne told Sky News in an interview on Monday. "I want them to go to members of the public."
Lloyds shares rose 1.2 percent to 77.47 pence at 8:18 a.m. in London. They are up 2.2 percent this year. The Treasury has said it won't sell shares if they dip below 73.6 pence, the value it assigns to the bailout price. RBS has dropped 19 percent this year.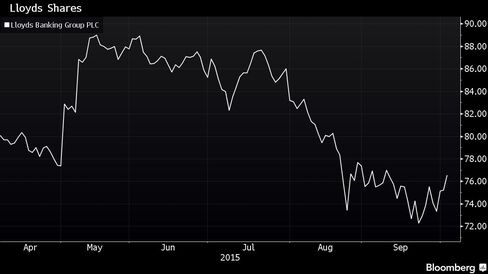 Under the current yearlong trading plan due to end in December, U.K. Financial Investments Ltd., which manages the sale of government-owned assets, has been selling small batches of Lloyds shares to investors, reducing its holding from 25 percent. A sale in September pushed the stake below 12 percent. By contrast, the government still owns 72.9 percent of Edinburgh-based RBS.
Lloyds Chief Executive Officer Antonio Horta-Osorio has eliminated thousands of jobs, sold assets and cut the consumer network to return the bank to its first annual profit in five years in 2014. Britain's largest mortgage provider said in July it will consider paying special dividends and share buybacks after first-half profit climbed 38 percent.
The London-based bank is scheduled to report third-quarter earnings at the end of October.