In less than a month, the U.S. oil bust could claim two of its biggest victims yet.
Energy XXI Ltd. and SandRidge Energy Inc., oil and gas drillers with a combined $7.6 billion of debt, didn't pay interest on their bonds last week. They have until the middle of next month to either pay the interest, work out a deal with their creditors or face a default that could tip them into bankruptcy.
If the two companies fail in March, it would be the biggest cluster of oil and gas defaults in a month since energy prices plunged in early 2015.
"We're just beginning to see how bad 2016 is going to be," said Becky Roof, managing director for turnaround and restructuring with consulting firm AlixPartners.
Debt-Fueled Boom
The U.S. shale boom was fueled by junk debt. Companies spent more on drilling than they earned selling oil and gas, plugging the difference with other peoples' money. Drillers piled up a staggering $237 billion of borrowings at the end of September, according to data compiled on the 61 companies in the Bloomberg Intelligence index of North American independent oil and gas producers. U.S. crude production soared to its highest in more than three decades.
Oil prices have now fallen more than 70 percent from a 2014 peak, and banks and bondholders are fighting for scraps. Bond prices reflect investors' fears. U.S. high yield energy debt lost 24 percent last year, the biggest fall since 2008, according to Bank of America Merrill Lynch U.S. High Yield Indexes.
Both Energy XXI and SandRidge could still reach an agreement with creditors that will give them time to turn their businesses around. SandRidge said last week that it missed a $21.7 million interest payment. The company owes $4.2 billion, including a fully-drawn $500 million credit line. Energy XXI, which owes $3.4 billion, said in a filing last week that it missed an $8.8 million interest payment.
David Kimmel, a spokesman for SandRidge, said it has the money to make interest payments due in February, March and April. He wouldn't comment on SandRidge's options if it doesn't make the interest payments by the end of the grace period. David Griffith, investor relations associate with Energy XXI, did not respond to an e-mail seeking comment.
Now What?
The companies' failing to pay interest on their bonds may be a way to help motivate creditors to renegotiate debt, said Jason Wangler, an energy analyst with Wunderlich Securities in Houston.
"It's a negotiating tool," Wangler said. "They say, 'I'm not going to pay you. Now what are you going to do?'"
Energy XXI owes $150 million to banks including Royal Bank of Scotland Group Plc, UBS Group AG and BNP Paribas SA, among others. SandRidge has fully drawn its credit line with banks including Barclays Plc, Royal Bank of Canada and Morgan Stanley, according to data compiled by Bloomberg. The banks declined to comment.
SandRidge is likely to file for bankruptcy, analysts at junk bond research firm KDP Investment Advisors Inc. wrote in a report last week. S&P wrote in a separate report that Energy XXI is probably going to file. Since the start of 2015, 48 North American oil and gas producers have gone bankrupt with a total of $17.3 billion in debt, according to law firm Haynes and Boone. The largest was Samson Resources Corp., which entered Chapter 11 in September owing more than $4 billion.
More Coming
Others are probably coming. The number of U.S. companies that have the highest risk of defaulting on their debt is nearing a peak not seen since the height of the financial crisis, according to a report by Moody's Investors Service earlier this month. The oil and gas sector took up the biggest share, accounting for 28 percent, or 74 borrowers.
Most of the shale industry's debt is in the form of bonds, according to data compiled for the Bloomberg Intelligence index. Of those $197 billion of securities, $101 billion is junk-rated.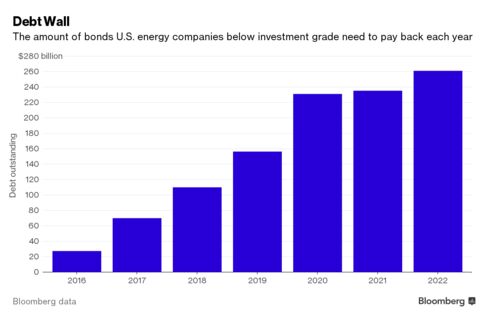 Bond investors aren't likely to recover much money from oil and gas companies that default. Standard & Poor's estimates, for example, that Energy XXI's and SandRidge's unsecured noteholders will receive, at most, 10 cents on the dollar.
Banks are setting aside more money to cover potential losses on souring energy loans. S&P estimates that credit lines to these companies could be cut by 30 percent by April, when banks conduct one of their twice-yearly evaluations of their loans.
"We are at the very beginning of the next wave of energy defaults," said Paul Halpern, chief investment officer at Versa Capital Management, which manages about $1.5 billion of distressed debt.