Most Asian stocks fell and oil dropped after the world's biggest crude producers failed to agree on supply cuts, while haven assets including gold got a boost as the reopening of an FBI probe into Hillary Clinton dealt a blow to her campaign ahead of next week's U.S. presidential election.
Energy companies led losses on the MSCI Asia Pacific Index, which was set to complete its first monthly drop since June. Crude sank to a one-month low after the Organization of Petroleum Exporting Countries ended talks without agreeing quotas. South Korea's won weakened as President Park Geun-hye deals with an influence-peddling scandal that's sparked public outcry. Gold rose for a third day after a survey pointed to cooling support for Clinton since the Federal Bureau of Investigation said Friday it was again looking into her use of private e-mail while secretary of state.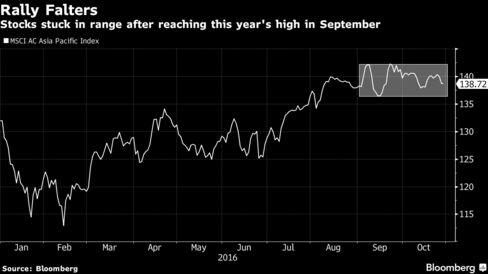 Global equities have lost ground in October as mixed corporate earnings meld with investor anxiety ahead of the Nov. 8 election in the U.S. and expectation the Federal Reserve will hike interest rates before the year is out. The S&P 500 Index slid 20 points in about 40 minutes on Friday amid news the FBI had reopened its investigation into Clinton, an issue that has dogged her campaign. OPEC talks over two days in Viennayielded little more than a promise that the world's top oil producers would keep discussing ways to stabilize the market.
"Until the election, the general theme will be uncertainty, which will have implications not just on the stock market, but on the dollar and Treasuries," said Chad Morganlander, a money manager in Florham Park, New Jersey at Stifel, Nicolaus & Co., which oversees about $180 billion. "The probability that was factored into the market and the global financial system was a Hillary Clinton victory – investors now need to square their books going into the election based on whatever new odds come out."
Stocks
About five shares declined for every three that advanced on the MSCI Asia Pacific Index, which was near a two-week low as of 11:32 a.m Tokyo time. A gauge of energy shares slipped to its weakest level in a month as Japan's Topix index retreated from its highest level since April and Hong Kong's Hang Seng Index dropped for a fifth day. Markets in India and the Philippines are shut for holidays.
AIA Group Ltd. shares slumped as much as 7.2 percent after China UnionPay Co. halted credit and debt card payments for most insurance policies in Hong Kong, making it harder to conduct transactions with Chinese visitors that accounted for about half of the company's sales in the city. Nippon Yusen KK, Mitsui O.S.K. Lines Ltd. and Kawasaki Kisen Kaisha Ltd. — Japan's three largest shipping companies — all surged more than 5 percent in Tokyo after they agreed to merge their container operations into one company.
Futures on the S&P 500 Index retreated 0.1 percent, after the underlying benchmark lost 0.3 percent on Friday. An ABC/Washington Post tracking
survey
released Sunday gave Clinton 46 percent support from likely voters, to Trump's 45 percent. Clinton was ahead by 12 points a week earlier.
"The race remains very tight and markets are far too complacent about the end result," said Matthew Sherwood, head of investment strategy in Sydney at Perpetual Ltd., which manages about $21 billion. "If the polls tighten more, or the FBI investigation dominates the headlines, there could be a recalibration in market prices this week."
Currencies
The Bloomberg Dollar Spot Index, a gauge of the greenback against 10 major peers, added 0.1 percent after retreating 0.3 percent from a seven-month high in the last session.
The Mexican peso held near a two-week low versus the dollar, after three days of losses. Mexico's currency tends to fall when U.S. presidential candidate Donald Trump gains ground in polls, reflecting concern about his pledges to renegotiate a free-trade agreement and deport millions of undocumented immigrants.
South Korea's won fell for a seventh day, its longest losing streak since February, as President Park faces calls by the ruling party for her to remove the prime minister. Prosecutors raided Park's office over the weekend to investigate allegations her close friend Choi Soon-sil — a private citizen whom opposition lawmakers have linked to a religious cult — wielded influence on state affairs over an extended period.
China's yuan advanced 0.2 percent, paring its biggest monthly loss since May, following Friday's retreat in the dollar. China's clampdown on UnionPay payments for insurance products in Hong Kong also helped provide support, with such transactions having been used as a means of skirting capital controls to take funds out of the mainland.
Commodities
Crude oil fell 0.5 percent to $48.45 a barrel in New York. OPEC ended a meeting on Friday without reaching a deal on country quotas, according to delegates who took part in the discussions. Major producers from outside OPEC finished talks with the group on Saturday without any supply commitments, Brazil's Oil and Gas Secretary Marcio Felix said. Oil has fluctuated near $50 amid uncertainty about whether OPEC can implement the first supply cuts in eight years at its official November meeting.
"Talks over the weekend make it seem less likely there will be an agreement on production cuts," said Ric Spooner, a chief market analyst at CMC Markets in Sydney. "The market has probably made a fair bit of the adjustment, but I wouldn't be surprised to see oil fall further into the $47 range."
Gold added 0.1 percent, after rallying 0.6 percent on Friday.