Asian shares dropped with U.S. equity index futures as oil prices slumped and Apple Inc.'s results disappointed. Australia's dollar strengthened after inflation data.
Energy companies led declines on the MSCI Asia Pacific Index, which retreated from a two-week high. Apple, the world's largest company, fell as much as 3.1 percent in after-hours U.S. trading following its first annual sales decline since 2001. Crude oil sank to a three-week low after Russia said it wouldn't join planned output cuts being orchestrated by OPEC. The Aussie rose by the most in a week and Australia's two-year bonds fell as a pickup in consumer-price gains curbed speculation another interest-rate cut is coming.
"Plenty of countries want an exemption to the OPEC output cuts and that's putting pressure on oil," said James Audiss, Sydney-based senior wealth manager at Shaw and Partners Ltd., which oversees about $7.5 billion. "Apple's forward expectations aren't great and it's susceptible to more of a pullback."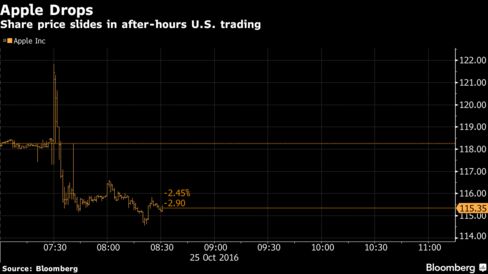 Sliding prices for Apple iPhones and a forecast for lower-than-expected profitability over the holiday period cast a cloud over an earnings season that's been generally positive, with about three-quarters of the S&P 500 Index companies to have reported so far beating estimates. Skepticism about major oil producers' ability to agree output reductions continues to hang over financial markets, which nonetheless have become more settled as traders grow more confident about the outcomes of the U.S. presidential election and this year's Federal Reserve policy meetings.
Bank of America Merrill Lynch's GFSI Market Risk Index — a measure of future price swings implied by options trading on global equities, interest rates, currencies and commodities — has fallen to the lowest since 2014. Hillary Clinton's odds of victory in next month's vote are close to the highest on record at 86.5 percent, according to forecaster FiveThirtyEight, and futures trading indicates a 73 percent chance of a U.S. interest-rate rise by December.
Stocks
The MSCI Asia Pacific Index was down 0.3 percent as of 11:39 a.m. Tokyo time. Benchmark share indexes declined across the region with gauges in Australia and South Korea sliding by the most in six weeks. Japan's Topix index slipped from its highest close since May and the Shanghai Composite Index retreated from a nine-month high.
Wesfarmers Ltd., Australia's largest retail chain, sank 5 percent in Sydney after sales at its Coles supermarkets missed estimates.
Bank of China Ltd., Nintendo Co. and Posco are among Asian companies reporting results Wednesday. Outside of the region, the lineup includes Tesla Motors Inc., Coca-Cola Co., Bayer AG and GlaxoSmithKline Plc.
S&P 500 futures fell 0.2 percent, after the underlying gauge declined on Tuesday by the most in two weeks as data showed consumer confidence receded in the world's biggest economy.
Commodities
Crude oil slid 1.3 percent to $49.33 a barrel in New York. Output cuts are not an option for Russia, the nation's envoy to the Organization of Petroleum Exporting Countries said, according to Interfax. American supplies rose by 4.75 million barrels last week, industry data showed ahead of Wednesday's release of official figures.
Aluminum in Shanghai jumped as much as 5.2 percent to its highest level in nearly two years, extending a rebound as investors pile up bets across China's commodity exchanges. A rapid surge in coal prices in Asia's largest economy is driving up costs for steel and aluminum producers, while demand is seen supported by government stimulus.
Gold gained 0.2 percent, rising toward a three-week high. Prices are climbing amid speculation demand will be boosted by the Diwali festival in India, the world's largest bullion-consuming country after China.
Currencies
The Aussie strengthened 0.7 percent versus the greenback, the best performance among major currencies. Consumer prices in Australia increased 1.3 percent from a year earlier in the last quarter, exceeding the previous period's 1 percent gain and the 1.1 percent rise forecast in a Bloomberg survey. The probability of an interest rate cut by mid-2017 dropped by 14 percentage points to 23 percent in the futures market.
"A jump in headline inflation will help calm RBA fears over inflation expectations and thus means a steady hand on rates into year end," said Sean Callow, a senior strategist at Westpac Banking Corp. in Sydney.