Asian stocks retreated and the yen rose to a one-week high ahead of much-anticipated central bank decisions in the U.S. and Japan. Oil surged on speculation a glut will ease.
The MSCI Asia Pacific Index snapped a three-day winning streak as shares fell in Hong Kong, Japan and Singapore. The yen strengthened for a third day amid the countdown to the Bank of Japan's policy statement and with futures indicating only a 22 percent chance of an interest-rate hike from the Federal Reserve. Benchmark bonds in Australia tracked gains in U.S. Treasuries, while Japan's 10-year yield stayed near its low for the month. Oil jumped toward $45 a barrel on prospects major producers will agree to cap output.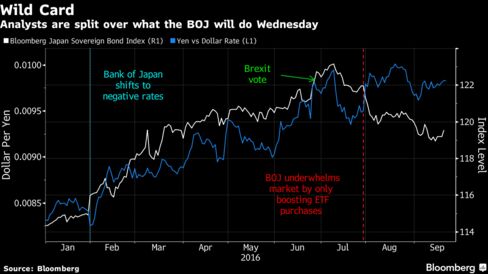 The BOJ decision has the potential to jolt financial markets regardless of the outcome as opinion is fairly evenly split over whether policy makers will add to their unprecedented stimulus. The yen surged more than 3 percent on two of the last three decision days as projections for easing proved overly optimistic. The Fed meeting is being viewed with greater certainty and all but four of 102 economists surveyed by Bloomberg predict the U.S. central bank will hold off from raising interest rates after U.S. employers added fewer jobs than forecast in August and growth in services slowed.
 "There's some sort of additional measures likely coming from the BOJ and it would be a disappointment if there's none," said Chris Green, the Auckland-based director of economics and strategy at First NZ Capital Group Ltd. "With U.S. data pretty mixed at the moment, there's a lack of consensus among Fed policy makers whether to raise rates. The focus of investors will be on the tone of the Fed statement."
The BOJ's policy announcements typically come out between noon and 1 p.m. Tokyo time and Governor Haruhiko Kuroda is due to speak later at a press briefing. The Fed's decision is due at 2 p.m. in Washington and Chair Janet Yellen will talk to reporters afterwards.
Monetary authorities will continue to hog the limelight on Thursday with speeches due from the new governor of the Reserve Bank of Australia as well as the heads of the European Central Bank and the Bank of England. In addition, central banks in countries including New Zealand, Norway and South Africa have policy decisions due that day.
Stocks
The MSCI Asia Pacific Index was down 0.1 percent as of 11:46 a.m. Tokyo time, after rallying 1.6 percent in the last three sessions. Benchmarks in Japan and Singapore declined at least 0.4 percent, while Australia's S&P/ASX 200 Index gained 0.4 percent.
Futures on the S&P 500 Index were little changed after the underlying gauge barely moved for the second session in a row.
Currencies
The Bloomberg Dollar Spot Index, a gauge of the greenback's strength, declined 0.1 percent from near its highest level since July. South Korea's won strengthened 0.7 percent, the biggest gain among major currencies.
The yen strengthened 0.1 percent to 101.59 per dollar following a two-day gain of 0.6 percent. Of 43 analysts surveyed by Bloomberg, 23 forecast the BOJ would loosen monetary policy at this week's review.
"Because there are so many points of discussion at this BOJ meeting, many market players have scaled back holding big dollar-yen positions," said Yasuhiro Kaizaki, vice president for global markets at Sumitomo Mitsui Trust Bank Ltd. in New York. "I have a feeling that the yen won't rise past 100 per dollar even if there's no change to the BOJ's policy the way market positions are now. Any easing could spark momentary yen weakness, but won't lead to a sustained decline."
Bonds
The yield on Australian government bonds due in a decade fell two basis points to 2.10 percent, while rates on similar-maturity New Zealand notes dropped four basis points to 2.58 percent.
Ten-year Treasury yields were little changed after declining by two basis points on Tuesday to 1.69 percent. Japan's 10-year yield was minus 0.06 percent, after ending the last session at minus 0.065 percent, the lowest closing level this month.
"General chatter is that the BOJ is considering changes to the Japanese government bond purchasing program, in an attempt to steepen the yield curve, a further move on negative interest rate policy and a new forward guidance policy," said Stephen Innes, a senior currency trader at Oanda Asia Pacific Pte in Singapore. The market is nonetheless "convinced" that there'll be no move on interest rates and policy makers will just signal an intent to base future policy on the yield curve, he said.
Commodities
Crude oil climbed as much as 2.5 percent to $45.14 a barrel ahead of a government update on U.S. stockpile levels. Inventories fell by 7.5 million barrels last week, the American Petroleum Institute was said to have reported late on Tuesday ahead of the official figures. Algeria's energy minister said OPEC may turn its informal talks next week into a formal session, a hint that major producers may agree measures to limit output and support prices.
"History suggests that OPEC action is unlikely, but there will be talk and that will move the market," said Evan Lucas, a market strategist at IG Ltd. in Melbourne. "The API data gave the market a boost, but prices are coming from a low base."
Nickel fell 1.1 percent in London, after jumping 6 percent in the last two sessions, ahead of the results of a mining audit by the Philippines. It has climbed about 16 percent in 2016 as the Philippines — the biggest supplier of the mined metal — shutters sites for failing to meet environmental standards. The government could tell more mines to stop operating, Environment and Natural Resources Secretary Gina Lopez said on Monday.