The dollar dropped with Treasuries as traders braced for key policy decisions in the U.S. and Japan. Oil rallied.
The greenback fell against most major peers, while 10-year Treasury yields rose two basis points as investors largely ruled out an interest-rate hike from the Federal Reserve this week and economists were split on whether the Bank of Japan will boost stimulus. The decline in the dollar bolstered investor appetite for raw materials from crude oil to gold. Equities in Europe and Asia climbed, while the S&P 500 Index failed to hold on to its rally as a slide in technology stocks overshadowed gains in bank shares. Nickel surged.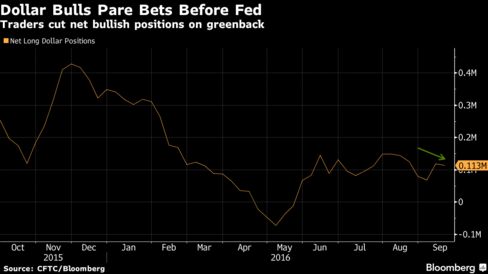 Financial market volatility has picked up over the past two weeks on concern policy makers are contemplating the limits of the measures they've used to support growth. Since boosting benchmark rates last December, the Fed has refrained from a subsequent hike amid mixed global economic data. Traders now see only 20 percent odds of action this Wednesday, down from more than 40 percent in late August. Meanwhile, the BOJ and the European Central Bank are studying the effectiveness of their own stimulus programs.
 "There's a chance for volatility to remain, simply because I don't think the Fed is going to clear up any uncertainty about the path of interest rates," said Bruce Bittles, the chief investment strategist at Milwaukee-based Robert W. Baird, which oversees $110 billion. "The Fed will not raise interest rates this week, but they will be pretty aggressive in saying a rate increase is coming."
The Bloomberg Dollar Spot Index, which measures the currency against a basket of 10 major peers, declined 0.2 percent as of 4 p.m. in New York. The greenback weakened 0.2 percent to $1.1175 per euro and fell 0.4 percent to 101.93 yen.
Hedge funds and other large speculators cut net bullish futures positions on the dollar for the week ended Sept. 13, according to data from the Commodity Futures Trading Commission. Bets that the dollar would rise outnumbered bearish positions by 113,195 contracts, down from 119,066 in the previous period.
"We continue to expect U.S. dollar weakness versus G-10 and emerging-market currencies," analysts at Goldman Sachs Asset Management said in a client note dated Sept. 16. "We expect no move in September, but anticipate the Fed will signal that a rate hike is still possible this year, while the pace of tightening will be even more shallow and gradual than previous Fed projections."
The U.S. central bank meets the same day as policy makers from the BOJ. Predictions for what the Japanese central bank will do Wednesday range widely, complicating the job of currency traders trying to position for the event.
The overnight Interbank yuan rate surged the most since January in Hong Kong amid speculation China's central bank is intervening to fend off bearish bets on the local currency. Colombia's peso and South Africa's rand led gains among global peers.
Bonds
Benchmark Treasury 10-year yields rose to 1.71 percent, based on data compiled by Bloomberg, after gaining two basis points last week.
Traders have sold debt over the past month in a selloff that resembles the so-calledtaper tantrum that engulfed markets in 2013, when investors speculated that the Fed was planning to reduce its asset purchases, according to Joachim Fels, the global economic adviser at Pimco, which manages $1.51 trillion.
"Investors, I think, are nervous that central banks may start to reconsider unconventional policies," Fels, who is based in Newport Beach, California, said on Bloomberg Television Sept. 16. "Investors have been riding and actually surfing the wave of central bank accommodation. Now we're seeing something like a mini taper tantrum," he said, adding that he thinks the Fed will act in December.
The extra yield, or spread, that investors get for holding Italian 10-year bonds over German securities of a similar maturity declined on Monday for the first time in eight days, after a rally that pushed German yields back below zero.
Stocks
MSCI's gauge of global equities climbed 0.5 percent after a two-week slide as optimism the Fed will delay raising rates rekindled risk demand.
The S&P 500 closed little changed at 2,139.12, after earlier gaining as much as 0.7 percent. Wells Fargo & Co. and JPMorgan Chase & Co. advanced, while Apple Inc. led losses among technology companies following an 11 percent surge last week. General Motors Co. rallied after Morgan Stanley upgraded the stock to the equivalent of buy from neutral.
The Stoxx Europe 600 Index climbed 1 percent after a retreat last week made it diverge the most relative to U.S. shares since early December. The rebound in commodities spurred gains in companies from BHP Billiton Ltd. to Anglo American Plc.
Hungarian stocks advanced as S&P Global Ratings awarded the country investment-grade status, while Taiwan's benchmark index rose the most in a year Monday.
Asian index futures were mixed, with contracts on Australia's S&P/ASX 200 Index down at least 0.1 percent with those on the Kospi index in Seoul and the FTSE China A50 Index. Nikkei 225 Stock Average futures were little changed in Chicago with Japanese markets to resume Tuesday following a holiday.
Commodities
West Texas Intermediate crude for October delivery, a contract that expires Tuesday, climbed 0.6 percent to close at $43.30 a barrel on the New York Mercantile Exchange. The more-active November contract rose to $43.86.
Oil still retreated from the day's highs as a tanker returned to Libya's Ras Lanuf export terminal to load oil after clashes halted what will be the first overseas crude shipment from the site since 2014. OPEC may call an extraordinary meeting if ministers reach consensus at informal talks next week, Secretary General Mohammed Barkindo said on Sunday, according to the Algerian Press Service.
"The market's moving on trepidation about the upcoming Fed meeting, which has had a big impact on the dollar," said John Kilduff, partner at Again Capital LLC, a New York hedge fund focused on energy. "There's also a lot of sorting out of the OPEC comments. There are some people who pay inordinate attention to them."
Gold futures for December delivery gained 0.6 percent to settle at $1,317.80 an ounce on the Comex in New York, their biggest gain since Sept. 6. Aggregate futures trading was 38 percent below the 100-day average for this time.
Nickel led gains among industrial metals, jumping 4.4 percent, the most for two months, after the Philippines said it may suspend more nickel mines as part of a nationwide audit due for release this week.