The dollar rose to a two-week high against the yen, Japanese shares rallied and emerging-market assets slumped after comments from central bank chiefs reinforced the divergence between monetary policy in the U.S. and other parts of the world.
The Bloomberg Dollar Spot Index climbed to its highest in almost three weeks after Federal Reserve leaders spurred bets a U.S. interest-rate increase is coming in September. Japan's Topix index of shares jumped the most in a month after central bank chief Haruhiko Kuroda reiterated a pledge to boost monetary stimulus if needed. Gauges of emerging-market stocks and currencies sank to their lowest levels in at least three weeks as oil retreated with gold. Australia's bonds tracked Friday's slide in U.S. Treasuries.
Almost unthinkable two months ago, a September rate hike in the U.S. is now on the table, with the probability of such a move having jumped to 42 percent from 22 percent in the space of a week. Fed Chair Janet Yellen said Friday at a gathering of central bankers in Jackson Hole, Wyoming, that the case to raise borrowing costs was getting stronger, while Vice Chairman Stanley Fischer indicated an increase is possible at the next review. European Central Bank Executive Board member Benoit Coeure said monetary policy may have to be used more frequently to help revive growth in the euro area.
"Friday's gain in the dollar, driven by Fed Reserve leaders, is expected to be sustained this week," said Jason Wong, a currency strategist at Bank of New Zealand Ltd. in Wellington. "With most other central banks clearly in the mood to ease, the Fed may still be cautious in its approach to guard against the negative effects of the dollar strength on the global economy."
Fischer said in an interview with CNBC that Yellen's Jackson Hole comments left open the possibility of a Fed rate increase next month, noting that the U.S. was "reasonably close to what is thought of as full employment." The nation's unemployment rate fell below 5 percent this year for the first time since 2008 and payrolls data on Friday are forecast to show 180,000 jobs were added in August. A report on Monday is expected to show American consumers boosted spending for a fourth month in July.
Currencies
The Bloomberg Dollar Spot Index gained 0.1 percent as of 1:07 p.m. Tokyo time, after surging 0.8 percent on Friday. The yen fell 0.3 percent, after sliding 1.3 percent on Friday, and the euro held near a two-week low. The pound weakened 0.1 percent with U.K. financial markets closed Monday for a holiday.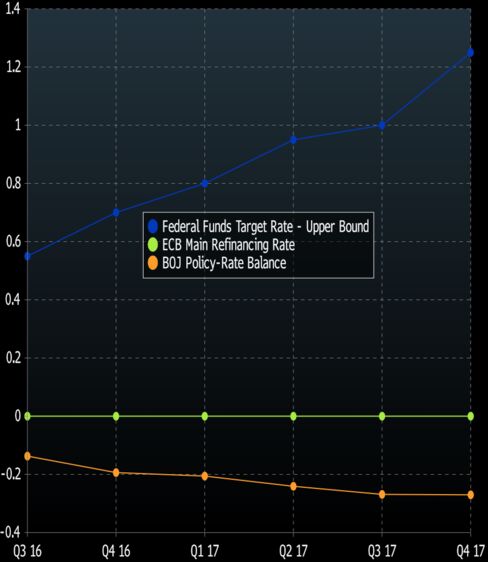 The MSCI Emerging Markets Currency Index fell 0.7 percent, led by a 0.9 percent slide in South Korea's won. China's yuan dropped to a five-week low.
South Africa's rand strengthened 0.3 percent, after a 5.9 percent weekly loss that marked its steepest slide of the year. Concern a tussle between South African Finance Minister Pravin Gordhan and the local police could result in Gordhan's ouster has weighed on the currency, in turn fueling speculation that the country may have to boost interest rates.
Stocks
Japan's Topix index climbed 2.2 percent as Toyota Motor Corp. and Mazda Motor Corp. jumped at least 4 percent. Australia's S&P/ASX 200 Index slid 1 percent, while benchmarks in Hong Kong, Singapore and Taiwan lost at least 0.4 percent. The MSCI Emerging Markets Index fell 0.7 percent.
"There will be some mild pressure on markets," said Michael McCarthy, chief market strategist at CMC Markets in Sydney. "The Fed remains very much data dependent, and that gives you the next hurdle for global markets which is the U.S. non-farm payrolls on Friday."
Futures on the S&P 500 declined 0.1 percent after the U.S. benchmark ended the last session at a three-week low.
Commodities
West Texas Intermediate crude slid 1.2 percent to $47.05 a barrel, after rising 1.9 percent over the previous two sessions on speculation informal OPEC talks next month will result in some kind of output freeze. A similar proposal was made in February, but a meeting in April ended with no final accord.
"The likelihood of them actually agreeing to some kind of production freeze is relatively low," Daniel Hynes, a senior commodity strategist at Australia & New Zealand Banking Group Ltd. in Sydney, said in a Bloomberg television interview.
Gold fell 0.3 percent, after losing 1.5 percent last week. Fed rate increases tend to boost the dollar and weigh on bullion, which doesn't bear interest.
Bonds
Australia's 10-year bond yield climbed by two basis points to 1.88 percent, while rates on similar-maturity debt in New Zealand and South Korea posted similar increases.
The yield on U.S. Treasuries due in a decade fell one basis point to 1.62 percent, after jumping six basis points to a two-month high in the last session. The two-year yield was steady at 0.84 percent, having jumped 10 basis points last week. Fed funds futures showed there is a 65 percent chance that Yellen will raise interest rates by year-end.
"Unless we have a blow-up payrolls number on Friday, and strong data between now and the September meeting, she'll probably go in December," said John Gorman, head of non-yen rates trading for Asia and the Pacific at Nomura Holdings Inc. in Tokyo. "The short end of the curve is a bit on the dangerous side, because markets are still trying to decide whether the Fed is going to hike in September or December. Which means the two-year notes can sell off quite a lot."
Japan's 10-year yield increased by one basis point to minus 0.065 percent. The cost of insuring Japanese corporate bonds against nonpayment using credit-default swaps dropped to the lowest level in more than two weeks, according to prices from Mizuho Financial Group Inc. and data provider CMA.