Emerging-market stocks and currencies fell in Asia, while regional bonds declined as the prospect of monetary policies in Europe and the U.S. turning less accommodative unsettled investors.
The MSCI Emerging Markets Index lost ground for the first time this week and U.K. equity index futures retreated. Japanese stocks gained after the yen dropped on Tuesday by the most since August. South Korea's won slid by the most in three weeks following a surge in the greenback. New Zealand's dollar extended declines after global dairy prices fell at auction, while the country's 10-year debt slid for a third day. Oil rallied as data indicated American oil stockpiles shrank last week.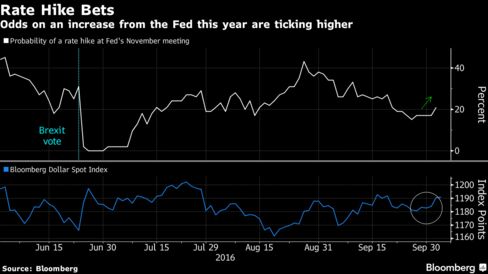 Investor sentiment has been dented this week as Bloomberg News reported that an informal consensus was building in the European Central Bank to rein in quantitative easing and Federal Reserve officials talked up the likelihood of a U.S. interest-rate increase in 2016. Fed Bank of Chicago President Charles Evans said Wednesday in Auckland that borrowing costs could be raised as early as the next policy meeting in November, speaking after his counterparts for Richmond and Cleveland called for a hike.
"Equity markets are retreating following hawkish comments from Fed officials and talks the ECB may curb stimulus," said Margaret Yang, an analyst at CMC Markets in Singapore. "There are uncertainties remaining. We will see a pick up in volatility ahead of the U.S. elections."
To read more about the informal census building around the ECB's QE, click here.
The ECB will probably wind down bond purchases in steps of 10 billion euros a month once a decision is taken to end quantitative easing, according to euro-zone central-bank officials, who asked not to be identified. They didn't rule out an extension of the program past the current end-date of March 2017 at the full pace of 80 billion euros ($90 billion) a month. The Fed's Evans said U.S. interest rates "may well be changing soon," speaking ahead of a Wednesday speech by Richmond Fed chief Jeffrey Lacker. Futures indicate a 21 percent chance of a November rate hike, up from 17 percent on Friday.
Stocks
The MSCI Emerging Markets Index was down 0.4 percent as of 11:16 a.m. Tokyo time, retreating from a one-week high. Japanese exporters helped drive a third day of gains in the Topix index, while Hong Kong's Hang Seng Index added 0.4 percent as oil producers rallied. Benchmarks retreated in Australia and Taiwan.
"We've been at an inflection point in financial markets for a few weeks now, with market participants sensing a changing tide among central banks," Chris Weston, chief markets strategist at IG Ltd. in Melbourne, said in an e-mail to clients. "The wash-up has been a slight pickup in implied market volatility with some signs of risk aversion that need to be watched closely."
Futures on the S&P 500 Index were little changed after the underlying benchmark slipped to a one-week low in the last session. Contracts on the U.K.'s FTSE 100 Index sank 0.7 percent.
Currencies
The Bloomberg Dollar Spot Index fell 0.1 percent, after gaining 0.6 percent in the last session. The yen rose 0.1 percent versus the dollar following a 1.2 percent drop on Tuesday.
"The dollar is being supported by improved economic data releases, such as manufacturing and higher consumer confidence ahead of an expected Fed hike in December," said Jason Wong, a currency strategist at Bank of New Zealand Ltd. in Wellington. "We think the dollar has more upside potential over the next 6-12 months with higher interest rates and inflation the key drivers and the elections the main risk factor."
The kiwi weakened for a third straight day, declining 0.3 percent. Average prices for whole milk powder, New Zealand's chief farm export, fell 3.8 percent at the GlobalDairyTrade auction on Tuesday.
The pound rose 0.1 percent to $1.2745 after sinking as much as 1 percent on Tuesday and touching its lowest point since 1985 amid anxiety the U.K. is headed for a so-called hard Brexit.
Bonds
New Zealand government debt led declines in early Asian trade, with yields on notes due in a decade rising seven basis points to 2.48 percent. The rate on similar-maturity Australian bonds added five basis points to 2.12 percent.
The yield on 10-year U.S. Treasuries declined by one basis point to 1.68 percent, after surging six basis points on Tuesday. German bund yields rose by the most in almost a month in the last session.
"The idea that they are thinking about the end of QE is a shock for the market," said Aaron Kohli, a fixed-income strategist at BMO Capital Markets Corp. in New York, one of 23 primary dealers that trade with the Fed, referring to the ECB. "That was seen as a bearish sign by the market."
Commodities
Crude oil rose as much as 1.3 percent to $49.30 a barrel in New York. Inventories dropped by 7.6 million barrels last week, the American Petroleum Institute was said to report. Energy Information Administration data Wednesday is forecast to show stockpiles increased. A deal between OPEC and non-members could trim output by 1.2 million barrels a day and boost prices by as much as $15 a barrel, according to Venezuela's oil minister.
"While the surplus is declining, high inventories will probably keep prices from climbing too far," said David Lennox, a resources analyst at Fat Prophets in Sydney. "The market will be looking forward to the November OPEC meeting and waiting for any details on quotas."
Gold for immediate delivery rose 0.3 percent, after a 3.3 percent plunge in the last session that marked its steepest slide in more than a year.