Oil retreated back below $47 as OPEC members haggled ahead of a meeting on production cuts, while a rally in metals ran out of steam. The dollar stabilized after a two-day decline and stocks were mixed as investors weighed Donald Trump's stimulus plans with threats to the market from Italy's referendum.
Crude futures swung back to losses as Iraq and Iran raised objections with OPEC officials over how to distribute output reductions, referring the issue to ministers for further consideration. Copper slumped for the first time in seven days. The Bloomberg Dollar Spot Index stabilized after a two-day loss. Emerging market stocks were generally higher, while those in developed nations slid.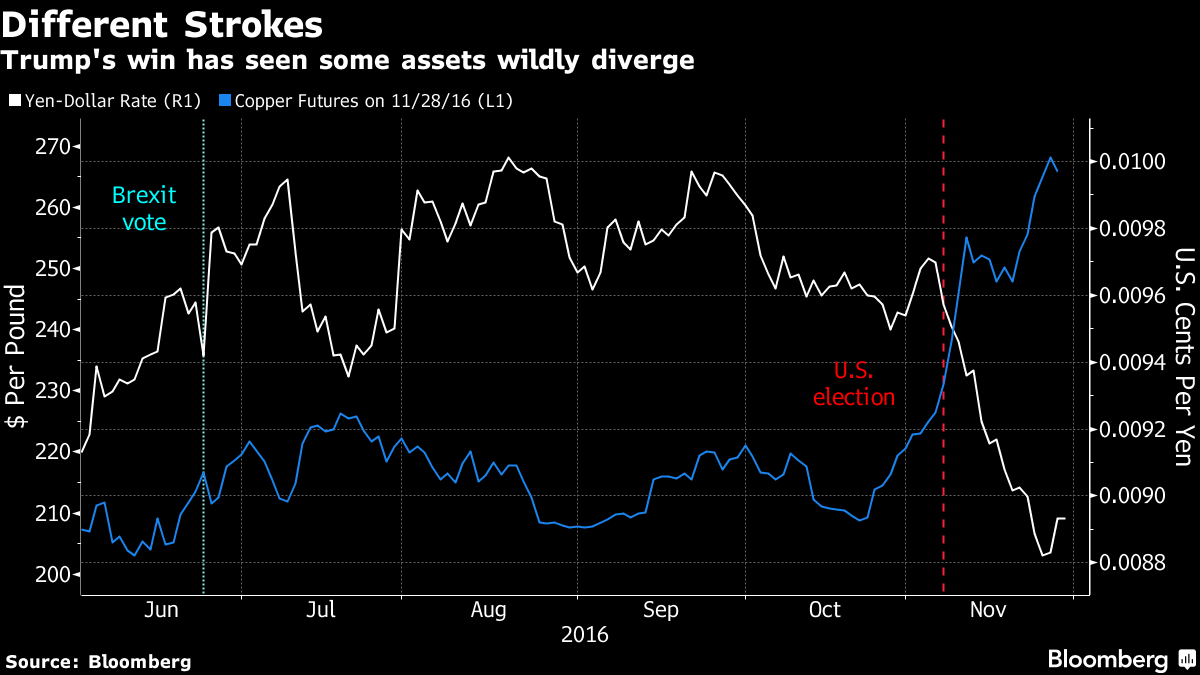 "What we are seeing now is a tug of war among OPEC members to get their share of the pie," Son Jae Hyun, a global market analyst at Mirae Asset Daewoo Co., said by phone from Seoul. "If a deal isn't made this time, none of them will benefit."
The impact of President-elect Trump's surprise victory on the dollar and commodities is waning, and traders are divided on how long China will be able to stabilize its economy while cooling its property market. Investors are also focused on the Organization of Petroleum Exporting Countries' talks, with Saudi Arabia saying oil output cuts may not be required to stabilize prices.
Commodities
West Texas Intermediate crude slipped 0.7 percent to $46.77 a barrel as of 2:00 p.m. in Tokyo, after rising 2.2 percent on Monday.
OPEC officials are so far failing to reconcile their differences on a pact to cut output and revive prices, with Saudi Arabia damping expectations of a deal by saying production curbs weren't essential.
Copper futures were down 2 percent on the London Metal Exchange, while zinc declined 1.6 percent and Nickel lost 2.1 percent.
Gold for immediate delivery fell 0.2 percent following last session's 0.9 percent jump.
Currencies
The euro was down 0.1 percent at $1.0600 and the also pound lost ground, while the yen was little changed at 111.97 per dollar.
Bloomberg's dollar gauge, which tracks the greenback against 10 major peers, was little changed after a two-day decline.
"Given that he hasn't even taken office yet, the Trump rally hasn't become completely obsolete yet as a theme," said Ayako Sera, a Tokyo-based strategist at Sumitomo Mitsui Trust Bank Ltd. "But given the big events coming up this week, it's probably the most sensible thing to do for investors to stay away from trading strongly."
The Chinese yuan gained 0.2 percent after the People's Bank of China strengthened the fixing versus the dollar for a second straight day
South Africa's rand weakened 0.6 percent. President Jacob Zuma survived the most serious challenge to his leadership yet, after a contingent of top officials failed to force him from office during a meeting of the ruling party's National Executive Committee
Stocks
About the same number of stocks fell as rose on the MSCI Asia Pacific Index, which gained 0.1 percent. Japan's Topix Index, Australia's S&P/ASX 200 Index and New Zealand's S&P/NZX 50 Index were all little changed.
The Jakarta Composite Index rose 0.9 percent, the biggest gain among Asian developing-nation equity benchmarks. Stock gauges in China, India and Thailand all advanced
Futures on the S&P 500 were little changed after the underlying benchmark fell from an all-time high Monday, losing at least 0.3 percent.
Bonds
Japan, New Zealand and Australian government bonds were all little changed.
Ten-year Treasuries yielded 2.31 percent, after falling five basis points last session