This month's gains in U.S. stocks almost vanished as Apple Inc. slumped ahead of Friday's jobs report. The dollar rose, while oil fell.
The S&P 500 Index dropped from near a record high as the iPhone maker was ordered to pay 13 billion euros ($14.5 billion) plus interest in a European Union tax crackdown. The gauge was still set for its sixth monthly advance, while emerging-market equities headed toward their best August since 2004. The dollar rose against most of its major peers, while Treasuries held onto gains as traders assessed U.S. interest-rate outlook. Oil dropped before a government report that's projected to show American crude stockpiles increased.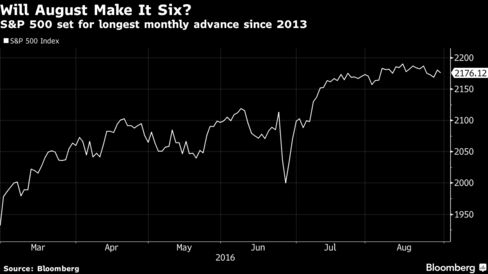 U.S. stocks have struggled to make further headway after reaching an all-time high this month amid a spate of mixed economic data and as remarks from policy makers spurred increased speculation over the timing of the next rate hike. Fed rhetoric has put the spotlight on August's labor report, which is projected to show the U.S. added 180,000 jobs, following more robust gains in June and July. Meantime, Apple was ordered to pay the money after the EU's executive arm said Ireland illegally reduced the company's tax bill.
"This isn't a positive development with the EU, but you can see it as an initial volley in  what's likely to be a continuing conversation," said Peter Jankovskis, who helps oversee $1.9 billion as co-chief investment officer of Lisle, Illinois-based OakBrook Investments. "We're just waiting on the Fed, looking ahead to the September meeting and parsing every new data point in that context."
Consumer confidence increased to an almost one-year high in August as Americans became more optimistic about the labor market, according to a report from the New York-based Conference Board on Tuesday. Fed fund futures indicate a 34 percent chance that the Federal Open Market Committee will raise rates next month, according to data compiled by Bloomberg. The probability dropped to zero in June after the U.K. voted to leave the EU.
Fed Vice Chairman Stanley Fischer told Bloomberg Television Tuesday that rate increases will be data dependent, without giving a specific timeline. He also said that the U.S. is close to full employment even as the dollar has strengthened, and while there's some pessimism about the pace of expansion, "that problem is largely about productivity growth, something which is very hard to control by policy makers. It depends enormously on what private individuals are doing in their companies, and it's very slow at the moment."
Stocks
The S&P 500 dropped 0.2 percent to 2,176.12 as of 4 p.m. in New York amid trading volumes that were 11 percent below the 30-day average. The benchmark is still up 0.1 percent in August, set for its longest stretch of monthly gains since May 2013. Apple slumped 0.8 percent to an almost four-week low.
Abercrombie & Fitch Co. sank 20 percent after slow sales at flagship locations weighed on the clothing retailer's latest results and outlook. Mondelez International Inc. rallied after saying it's walking away from takeover discussions with Hershey Co. two months after the company's $23 billion bid was rejected by the chocolate maker. Potash Corp. of Saskatchewan Inc., the world's second-largest producer of its namesake fertilizer, and Agrium Inc. surged after both companies confirmed they are in talks about a merger of equals.
European stocks climbed, extending gains in the month as a weaker euro boosted exporters. The Stoxx Europe 600 Index rose 0.5 percent, with almost all of its industry groups climbing. Commodity producers bucked the trend as metal prices fell and Citigroup Inc. analysts turned bearish on mining shares.
The MSCI Emerging Market Index rebounded from a three-week low, extending its August rally to 2.9 percent. Most Brazilian stocks declined after Supreme Court chief Ricardo Lewandowski said an impeachment vote of suspended President Dilma Rousseff will likely occur Wednesday, disappointing some traders who had expected it late Tuesday.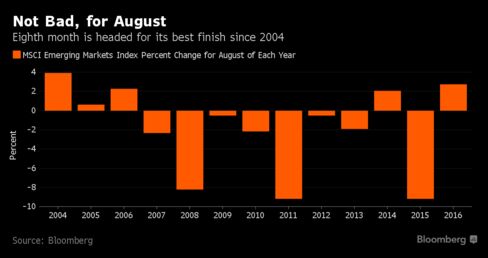 Futures on most Asian indexes signaled gains, following a day of fluctuations Tuesday. Nikkei 225 Stock Average futures climbed 0.7 percent in Osaka, while contracts on benchmarks in Australia and Hong Kong gained 0.1 percent. Kospi index futures slipped 0.2 percent in Seoul.
Currencies
The Bloomberg Dollar Spot Index, which tracks the currency against 10 peers, advanced 0.6 percent, as the U.S. currency strengthened 0.4 percent to $1.1143 per euro, and added 1 percent to 102.96 yen.
Sentiment around the dollar has oscillated in recent weeks amid speculation over the Fed's tightening plans after it raised rates in December for the first time since 2006. The speculation has helped the greenback trim its loss this year to 3.6 percent.
"The dollar is likely to stay on a firm footing into the Friday payrolls report, but we'll need to see a solid set of numbers for gains to be sustained beyond that," said Ned Rumpeltin, the European head of currency strategy at TD in London.
South Korea's won rose 0.5 percent versus the dollar, the best performance among 16 major currencies. Brazil's real declined amid speculation banks were seeking to weaken the currency before the monetary authority determines a key rate used in settling some financial contracts.
Bonds
Yields on U.S. government debt due in a decade increased one basis point, or 0.01 percentage point, to 1.57 percent, after dropping seven basis points on Monday.
Comments from central bankers during and in the run-up to the Kansas City Fed's annual symposium last week in Jackson Hole, Wyoming have split the market. Treasury bull Morgan Stanley predicts the Fed will forgo raising interest rates next month, while Goldman Sachs Group Inc. and Mitsubishi UFJ Securities Holdings Co. saw them as hawkish enough to raise the odds of action next month.
The August payrolls data have missed the median of economists' estimates in each of the past five years, JPMorgan Chase & Co. analysts led by Jay Barry in New York wrote in a report. The policy-setting Federal Open Market Committee meets next on Sept. 20-21 in Washington. The meeting will be followed by a press conference with Fed Chair Janet Yellen and by a fresh set of economic projections by policy makers.
Commodities
West Texas Intermediate for October delivery declined 1.3 percent to settle at $46.35 a barrel on the New York Mercantile Exchange, the lowest close since Aug. 15.
Gold futures for December delivery slid 0.8 percent to settle at $1,316.50 an ounce, headed for their first August decline since 2009. In the decade to 2015, bullion added 2.2 percent on average during August, the best month after January.