All four major U.S. equity benchmarks climbed to record highs as oil jumped on optimism OPEC will agree to cut output. The yen rose as markets digested reports of a tsunami warning in the Fukushima region.
The S&P 500 Index, the Dow Jones Industrial Average, the Nasdaq Composite Index and the Russell 2000 Index rallied together to their all-time peaks for the first time since 1999. Oil surged as Iran signaled optimism that OPEC will agree to a supply-cut deal and Iraq said it will offer new proposals to help bolster unity before next week's meeting in Vienna. The dollar halted its longest advance ever against the euro. The yen climbed after a magnitude 7.3 earthquake struck Japan off the coast of Fukushima, home to the nuclear power plant badly damaged in a March 2011 quake, triggering a tsunami alert.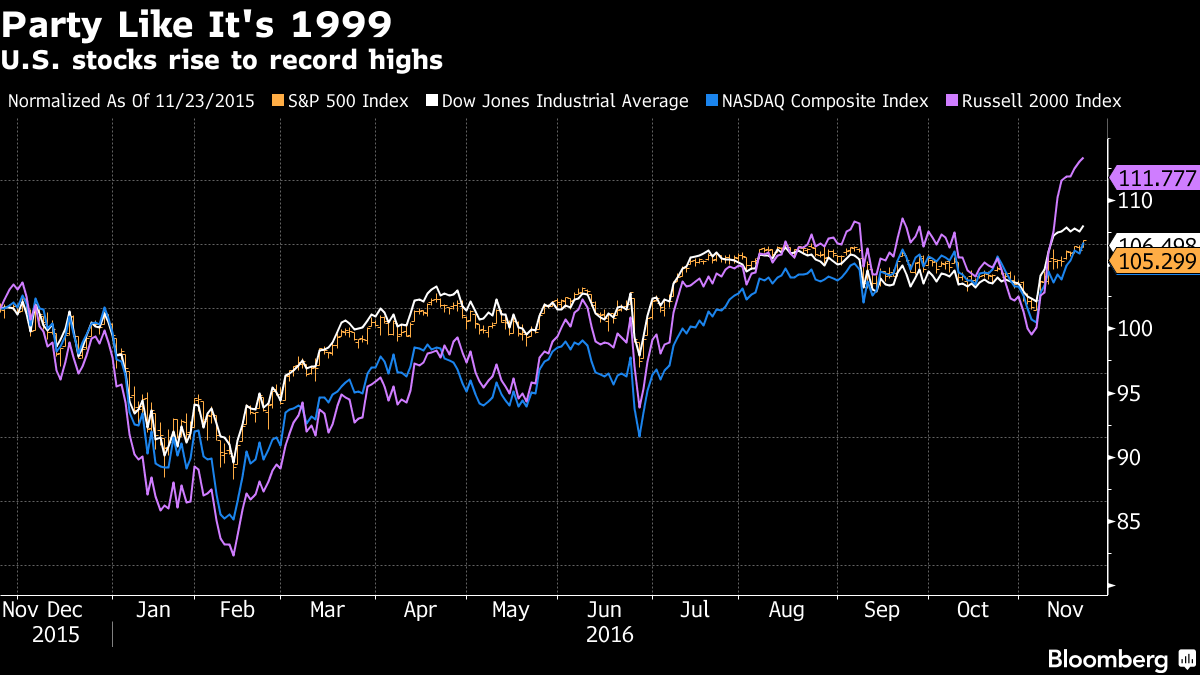 American stocks achieved the new milestone as companies ended a five-quarter profit slump and Donald Trump's election fueled optimism that his plans to cut taxes and boost fiscal spending will benefit industries more geared toward economic growth. Acknowledging the strength in the economy, Federal Reserve Chair Janet Yellen said Thursday that the central bank is close to lifting interest rates.
"There's optimism that it's more likely that Trump is going to put us on an economic fast track versus Clinton," said Terry Morris, manager director of equities at BB&T Institutional Investment Advisors in Wyomissing, Pennsylvania. "The election had something to do with this, and I also think there's some short covering going on. People that were hedging the election had to rush to cover after the news, and I think generally the perception is the economy is starting to pick up as the Fed is likely to raise rates in December."
Traders are now pricing in a 100 percent chance of a move next month, compared with a 68 percent probability in the beginning of November. If the Fed doesn't act as expected, it may bring on more market turmoil, says Seven Investment Management's Ben Kumar.
Stocks
The S&P 500 rose 0.8 percent to 2,198.18 at 4 p.m. in New York. The Dow Average and the Nasdaq advanced more than 0.4 percent. The Russell 2000 of smaller companies rose for a 12th day in its longest rally since 2003.
"It's a push on the upper end of the equity markets due to this renewed belief that there's tax cuts and stimulus spending coming in 2017 and 2018," said Chad Morganlander, a money manager at Stifel, Nicolaus & Co. in Florham Park, New Jersey, where he helps oversee about $172 billion. "The overall equity markets are taking a cue from that and they are trading on the belief that earnings will move higher as well as revenues in 2017."
Chesapeake Energy Corp. and Murphy Oil Corp. paced gains in energy shares. Tyson Foods Inc. tumbled after posting earnings that missed estimates and appointing Tom Hayes to succeed Donnie Smith as chief executive officer.
The Stoxx Europe 600 Index climbed 0.3 percent, reversing a slide of as much as 0.8 percent. Royal Dutch Shell Plc and Glencore Plc climbed more than 2 percent as commodities advanced. That marks a 10th day of the gauge alternating between intraday advances and losses, its longest streak since May 2013.
MSCI's emerging-market gauge rose 0.3 percent, trimming their monthly slide.
Commodities
Oil climbed to a three-week high. Iranian Oil Minister Bijan Namdar Zanganeh said it's "highly probable" OPEC will reach a consensus at the talks, according to comments published by Shana news service. Iraq will offer plans to help reach an accord, Oil Minister Jabbar Al-Luaibi said. Discussions went well, Libyan OPEC Governor Mohamed Oun said as he left the group's Vienna headquarters on Monday evening. Goldman Sachs Group Inc. said the likelihood of an agreement meant the bank was bullish on oil in the short term.
"Market players are positioning themselves for higher prices, and oil will be in the $50 to $55 range if there is a deal," said Giovanni Staunovo, an analyst at UBS Group AG in Zurich. "OPEC members are building a lot of expectations and taking too much exposure to let a deal fail."
West Texas Intermediate for December delivery, which expired Monday, rose 3.9 percent to $47.49 a barrel on the New York Mercantile Exchange. Brent for January settlement climbed 4.4 percent to $48.90 a barrel on the London-based ICE Futures Europe exchange.
Gold futures advanced from the lowest since February as the dollar declined, boosting demand for the metal as an alternative asset. Silver slipped, drawing closer to a bear market.
Currencies
The Bloomberg Dollar Spot Index, which tracks the currency against 10 major peers, fell 0.4 percent on Monday.
The euro gained 0.4 percent to $1.0627, ending 10 days of losses that were its longest losing streak since its 1999 debut.
While Europe's single currency was helped by news that Angela Merkel will run for a fourth term as German chancellor, the recovery may prove short-lived, according to Georgette Boele, a currency strategist at ABN Amro Bank NV in Amsterdam.
The euro's rise is mainly "profit-taking after the large moves," Boele said. "If U.S. data start to come in strong again this week, the dollar will likely resume its uptrend."
The yen rose less than 0.1 percent against the dollar on Tuesday. The temblor struck at 5:59 a.m. local time at a depth of 10 kilometers, according to the Japan Meteorological Agency. Tokyo Electric Power Co. said it was checking the plant and would issue updates as soon as information became available. State-run broadcaster NHK said a tsunami was expected imminently at Iwaki City.
Bonds
Benchmark 10-year Treasury yields fell four basis points, or 0.04 percentage point, to 2.32 percent.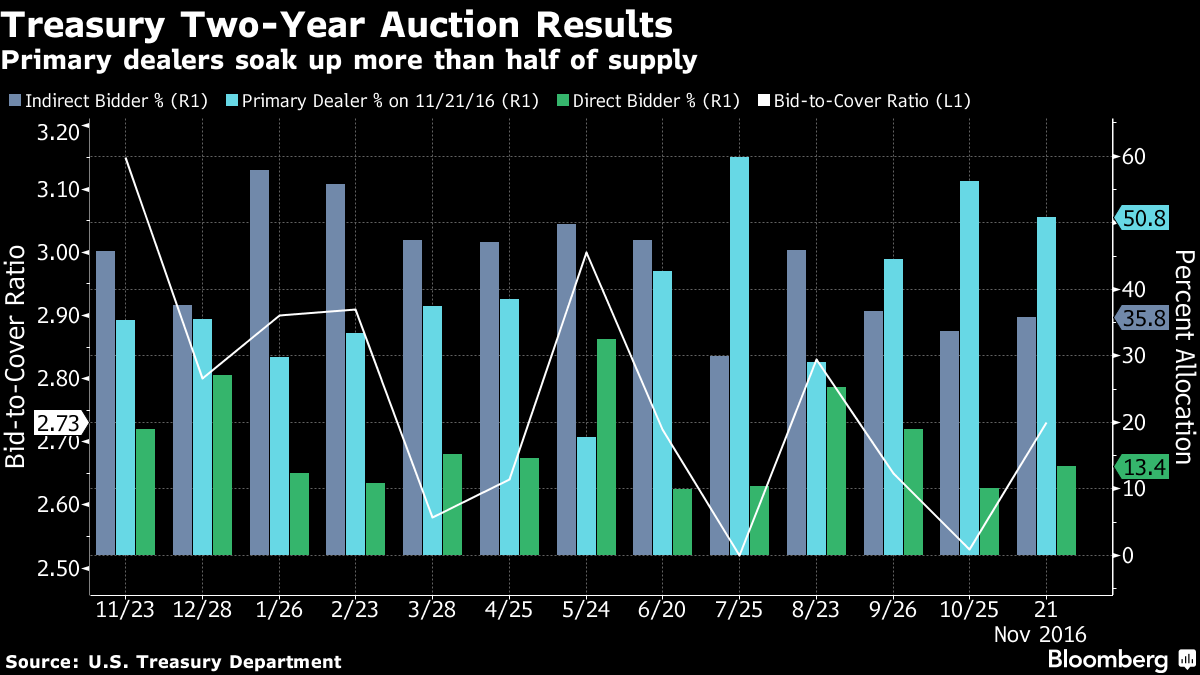 Wall Street dealers were left to soak up more than half of Monday's two-year Treasury auction as investors demurred with the Fed potentially less than a month away from lifting interest rates. The 23 primary dealers that trade with the Fed bought 50.8 percent of the $26 billion sale, the third-highest since the start of 2015, data compiled by Bloomberg show. The auction drew a yield of 1.085 percent, the highest for a sale of the maturity since 2009.
"Some investors stepped away because they're expecting a more aggressive Fed going forward, which means higher front-end rates," said Justin Lederer, an interest-rate strategist in New York at Cantor Fitzgerald LP, a primary dealer.