The British actor best known for his role as Severus Snape in the Harry Potter franchise passed away in London. His family confirmed his death to The Guardian.
Alan Rickman, one of the best-loved and most warmly admired British actors of the past 30 years, has died in London aged 69. His death was confirmed on Thursday by his family who said that he died "surrounded by family and friends". Rickman had been suffering from cancer.
Rickman was born in Acton, west London. He attended the Royal Academy of Dramatic Art and began his career on stage after graduating, including on productions with the Royal Shakespeare Company.
Rickman was an actor unafraid of the unexpected. He voiced a monarch in an episode of cult carton King of the Hill and a megalomaniac pilot fish called Joe in the Danish animator Help! I'm A Fish. In 2000, Rickman appeared as Sharleen Spiteri's love interest in the music video for Texas's 2000 hit 'In Demand', which involves them tangoing at a petrol station. In 2015, Rickman again featured in the video for one of their singles, this time with vocals.
He spoofed his own persona in comedy Galaxy Quest (2000), in which he plays a Shakespearian-trained actor who has found fame as a Spock-style alien in a long-running sci-fi series and in Victoria Wood's Christmas special of the same year, as an upright colonel at the Battle of Waterloo.
Rickman was sanguine about his legions of admirers, who declared their love on countless websites, video tributes and at stage doors. Even scientists were not immune: in 2008, linguistics professors concluded that the most appealing male voice mixes elements of Rickman, Jeremy Irons and Michael Gambon.
Recent film roles included an art-loving lord in the Coen brothers' scripted farceGambit (2012), as Ronald Reagan in Lee Daniels's The Butler – and a humorous, imperious King Louis XIV in A Little Chaos.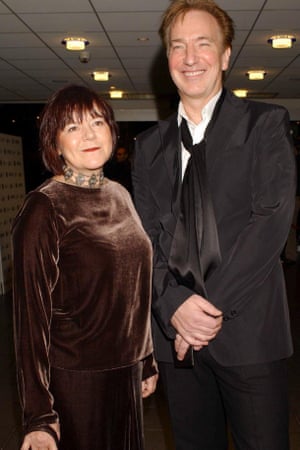 Rickman is still to be seen in Eye in the Sky, a thriller about drone warfare that won rave reviews at the Toronto film festival last year, and repeating his voiceover as Absolem the Caterpillar in Alice Through the Looking Glass, also due for release later this year.
That Rickman never won an Oscar (he did receive a Golden Globe, an Emmy, a Bafta and many more) became a perennial topic in interviews but did not seem to trouble the actor himself. "Parts win prizes, not actors," he said in 2008. It was the wider worth of his art to which Rickman remained committed, saying that he found it easier to treat the work seriously if he could look upon himself with levity.
"Actors are agents of change," he said. "A film, a piece of theatre, a piece of music, or a book can make a difference. It can change the world."
RIP Alan Rickman, master of wizardry, accents and our hearts. pic.twitter.com/kXCpKhZSrx

— Virgin Media (@virginmedia) January 14, 2016
@Pipesheartsalex ikr. Alan Rickman now what the hell. Rest in peace one of Britain's finest pic.twitter.com/2Blx6ZjVL0

— Orangefan (@Orangefan361) January 14, 2016
"Well, it may have escaped your notice, but life isn't fair." R.I.P. Alan Rickman #RIPAlanRickman ???????? pic.twitter.com/Ik3SV8qlIK

— แฮซซ่า.. (@pearyployy_) January 14, 2016
Yesterday: Aaron Ramsey scores against Liverpool. Today: Alan Rickman dies (RIP) The curse continues. ????

— Arsenal News (@__arsenalnews_) January 14, 2016
RIP Alan Rickman. We will be a fan. Always. pic.twitter.com/TCOuoMtPfR

— Movies Now (@moviesnowtv) January 14, 2016
My very favorite Alan Rickman was as Colonel Brandon in #senseandsensibility pic.twitter.com/UoIfqFsWAa

— Laura O'Neill (@ONeillLaura) January 14, 2016