Stocks in Asia rebounded from their steepest slide since Brexit, industrial metals surged and regional bonds tumbled after Donald Trump's election victory and spending pledges spurred gains in U.S. shares.
The MSCI Asia Pacific Index rose by the most in eight months, led by gains in raw-materials producers. Futures on the S&P 500 Index stabilized after swinging wildly in the last session, when they briefly sank by a 5 percent daily limit as the results of the U.S. presidential vote were announced. U.S. Treasury yields and the dollar fell, having surged on Wednesday amid speculation Trump's spending plans will fuel inflation and prompt monetary tightening. Copper, aluminum and nickel rose to their highest levels in more than a year.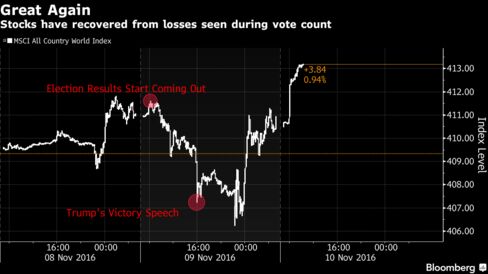 There's been a U-turn in investor sentiment since the largely unexpected win for Trump triggered a knee-jerk selloff in equities and rush into haven assets. While it's common for stock-market volatility to surge after U.S. elections, initial moves don't tend to prove long-lasting and that also proved the case in the wake of Britain's June vote to leave the European Union. Trump has signaled spending of more than $500 billion to rebuild U.S. infrastructure and also pledged to lower taxes.
"There will be short-term volatility following the Trump victory but this is going to be short-lived, much like Brexit," said Joshua Crabb, Hong Kong-based head of Asian equities at a unit of Old Mutual Plc. "This outcome isn't as bad as people think. There's going to be some tax cuts and fiscal stimulus. That would be good for corporate earnings and will be positive for equities."
Stocks
The MSCI Asia Pacific Index climbed 2.8 percent as of 12:21 p.m. Tokyo time, bouncing back from a 3.2 percent slide on Wednesday. Japan's Topix index jumped more than 5 percent, after sinking 4.6 percent in the last session, and Australia's benchmark rallied by the most in five years.
BHP Billiton Ltd., the top miner, and Rio Tinto Group had intraday gains of more than 9 percent in Sydney, their biggest increases since 2009. In Hong Kong, Jiangxi Copper Co., China's second-largest producer by output, rose as much as 11 percent and Russian aluminum maker United Co. Rusal Plc jumped by the most on record. Trump's spending plans will spur demand for copper and other commodities at a time of tightening global supply, according to Jefferies Group LLC.
"It's hard to make a directional bet as no one knows for sure what Trump will do," said Hao Hong, chief strategist at Bocom International Holdings Co. in Hong Kong. "Bets that are relatively certain include infrastructure projects, defense spending and unfriendly trade policy. Commodity stocks are jumping on such expectations."
Futures on the S&P 500 declined 0.1 percent, after closing up 1.2 percent on Wednesday. Billionaire Carl Icahn, 80, said he left President-elect Trump's victory party to bet about $1 billion on U.S. equities. The investor said that the U.S. economy still faces challenges but Trump will be "a positive, not a negative" for the country.
Currencies
The Bloomberg Dollar Spot Index slipped 0.2 percent after rallying 1.4 percent on Wednesday. The implied probability of a December Fed hike, which had fallen to less than 50 percent as results pointed to a Trump triumph, has jumped back to around 82 percent since he announced his spending plans.
"A Trump presidency is dollar bullish because Trump's economic policies are inflationary and will force the Fed to raise the Funds rate at a faster pace than otherwise," said Elias Haddad, a senior currency strategist at Commonwealth Bank of Australia.
The yen advanced 0.5 percent versus the greenback, set for the first gain in a week. It jumped as much as 3.9 percent in the last session before closing lower. Mexico's peso rose 0.3 percent, after plunging on Wednesday by the most in a decade amid concern exports will be hurt by protectionist trade policies advocated by Trump.
New Zealand's dollar added 0.2 percent, buoyed by speculation the central bank is done cutting interest rates after announcing a 25 basis point reduction on Thursday that was widely expected by economists. Australia's dollar strengthened 0.4 percent, supported by increases in prices of resources exported by the nation.
Commodities
Iron ore jumped by the daily limit on the Dalian Commodity Exchange to the highest level since October 2014, before paring gains. Copper surged 2.5 percent in London and is up 18 percent for the year.
"Trump has talked about getting America back to work and that means big military and infrastructure spending, which is good for commodities," said Rene Hochreiter, a Noah Capital Markets Pty Ltd. analyst in Johannesburg.
Crude oil slipped 0.3 percent to $45.15 a barrel in New York after data showed U.S. stockpiles expanded for the second week in a row.
Gold was up 0.7 percent. It jumped as much as 4.8 percent on Wednesday as the U.S. election results spurred demand for the safest assets, before giving up almost of the advance as the conciliatory tone of Trump's victory speech helped revive risk appetite.
Bonds
Ten-year U.S. Treasury yields declined by seven basis points to 1.99 percent, after soaring 20 basis points in the last session as a bond market gauge of inflation expectations climbed to the highest point since July 2015. An auction of the tenor on Wednesday drew the weakest demand since 2009, ahead of an offering of 30-year securities on Thursday.
"An increase of 20 basis points over one day is a good level to re-enter," said Kei Katayama, a bond manager in Tokyo at Daiwa SB Investments, which oversees $51.2 billion. "There's still a lot of uncertainty from the new president."
The yield on Australia's 10-year government bonds surged 24 basis points to 2.46 percent, the biggest jump since 2013. The yield on similar-maturity notes in New Zealand climbed 22 basis points to 2.97 percent.