Asian stocks rose from a three-week low and South Korea's won recouped some of the last session's loss after a rally in U.S. shares bolstered demand for riskier assets. The dollar strengthened versus most peers as investors weighed the odds of a Federal Reserve interest-rate increase.
The MSCI Asia Pacific Index advanced for the first time in three days, led by gains in energy companies. U.S. stock index futures were little changed after the S&P 500 Index closed within 0.5 percent of a record. The dollar appreciated for a fifth day versus the yen, the longest winning streak since March, as the won rose by the most in a week. U.S. crude hovered above $47 a barrel and copper climbed from a two-month low. Australian government debt tracked a rebound in U.S. Treasuries.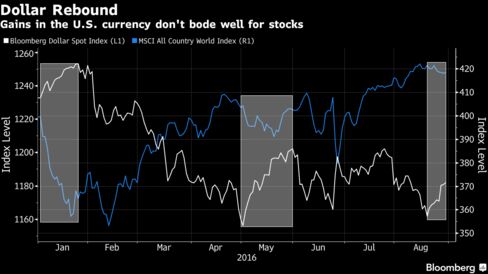 Expectations for a U.S. rate increase this year surged over the past two weeks, halting a global equities rally and boosting the dollar, as Fed officials including Chair Janet Yellen said the case for a hike is getting stronger. Fed Vice Chairman Stanley Fischer is due to speak Tuesday on Bloomberg Television, after saying on Friday that it's possible borrowing costs will be raised in September. A tightening risks destabilizing financial markets as central banks in Europe and Japan use unprecedented stimulus to support their economies.
"Expectations for a Fed rate increase are still driving the markets, as players await Fischer's comments," said Yuji Saito, head of the foreign-exchange department at Credit Agricole SA in Tokyo.
Japan's household spending fell in July from a year earlier, while the jobless rate was the lowest since 1995, data showed Tuesday. Gauges of consumer confidence in the euro area and the U.S. are also scheduled, along with a measure of American home prices. and the Bank of Korea will release the minutes of its last policy meeting.
Stocks
The MSCI Asia Pacific Index rose 0.4 percent as of 12:46 p.m. Tokyo time. Benchmarks in Hong Kong and South Korea were the region's best performers, climbing 0.6 percent. Japan's Topix index fluctuated following a 2 percent jump in the last session.
China Southern Airlines Co., Asia's biggest carrier by passengers, tumbled as much as 8.3 percent in Hong Kong after reporting a 10 percent slide in first-half net income. Flag carrier Air China Ltd. and China Eastern Airlines Corp. will report earnings on Tuesday, as will Industrial & Commercial Bank of China Ltd. and Bank of China Ltd.
S&P 500 futures were little changed following a 0.5 percent gain in the U.S. benchmark. With the American quarterly earnings season all but complete, almost 80 percent of companies included in the measure beat profit estimates, and 55 percent topped sales expectations. Analysts project net income at the gauge's members will decline 1.3 percent in the third quarter, which would mark a sixth straight contraction.
Currencies
South Korea's won rose 0.6 percent versus the dollar, the best performance among 16 major currencies. That followed a 1 percent decline in the last session, when it was the worst performer.
The Bloomberg Dollar Spot Index climbed to a three-week high as the U.S. currency advanced 0.2 percent versus both the euro and the yen, which was at 102.13 versus the greenback. Futures indicated a 36 percent chance that the Fed will raise rates in September as of Monday, up from 24 percent a week earlier, and Fisher has said U.S. payrolls data on Friday will be key to the central bank's decision making. The report is projected to show employers added 180,000 jobs this month, following a gain of 255,000 in July.
The risk that the yen will resume its climb to 100 per dollar is "likely to be limited ahead of the U.S. jobs data on Friday," Masafumi Yamamoto, the chief currency strategist at Mizuho Securities Co. in Tokyo, wrote in a note to clients. "A strong number would refuel expectations for a September rate hike and support the dollar."
West Texas Intermediate crude was up 0.2 percent at $47.09 a barrel. U.S. oil stockpiles probably increased by 1.5 million barrels last week, according to analysts surveyed by Bloomberg before official data due Wednesday. A tropical depression near Florida that is expected to become a storm by Tuesday is forecast to veer away from the energy-rich western Gulf of Mexico, according to the National Hurricane Center.
Copper rose 0.6 percent from Friday's close in London, where financial markets were shut on Monday for a holiday. That's the first gain in more than a week. Nickel climbed 0.9 percent.
Bonds
Australian and New Zealand bonds picked up where the U.S. Treasury market left off, with yields on both countries' 10-year notes falling at least five basis points. Rates on Treasuries due in a decade increased by two basis points to 1.58 percent, after dropping seven basis points on Monday.
The Fed is "likely to tighten in September, at least as long as the jobs number comes in OK," Michael Pond, head of global inflation market strategy at Barclays Capital Inc. in New York, said on Bloomberg Television. "Hawkish Fed rhetoric has certainly increased recently. It'll take a decent number, like 200,000, for them to go."