Financial markets judged the first of three American presidential debates a win for Hillary Clinton, as Mexico's peso rallied from a record low, U.S. stock index futures gained and gold retreated.
The peso, a proxy for Republican candidate Donald Trump's election prospects, rebounded almost 2 percent and Canada's dollar strengthened from its weakest level since March, a sign investors see a reduced chance he will win. Haven assets including the yen declined, with Japan's currency losing ground versus all 16 major peers.
In a CNN/ORC poll of debate watchers, 62 percent said Clinton won the exchange. Wagers against the Mexican peso had surged to a record ahead of the televised matchup in New York after some opinion polls put the two candidates neck-and-neck following a pickup in support for Trump, who has pledged to renegotiate the two-decade-old North American Free Trade Agreement. Citigroup Inc. has said a Trump election victory could sink equities and spur volatility in gold and currency markets.
The debate "looks to have been taken as a Hillary win," said Sean Callow, a senior currency strategist at Westpac Banking Corp. in Sydney. "The peso, Canadian dollar, S&P futures and Australian dollar are all surging — very much a relief rally in risk assets."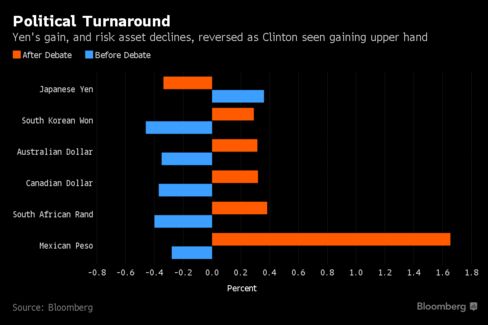 The debate marked the first time that voters saw the major-party nominees on the same stage, a pivotal moment in a close and bitterly fought contest. The two candidates leveled sharp and personal charges and counter-charges over trade, the U.S. economy, race and foreign policy in an event that put on display their starkly different personalities and visions of the nation's future.
Currencies
The Mexican peso jumped 1.8 percent, the most in two months, as of 12:53 p.m. Tokyo time. The currency of Canada, another beneficiary of the Nafta trade accord, rose 0.4 percent after having slipped to its weakest level since March ahead of the debate.
South Korea's won rallied with higher-yielding currencies including the Australian and New Zealand dollars, while the yen slid 0.5 percent. The Bloomberg Dollar Spot Index fell 0.2 percent, reversing an earlier advance.
"Hillary looks the stronger of the two," said Simon Pianfetti, a senior manager at the market solutions department at SMBC Trust Bank Ltd. in Tokyo. "This is bullish risk, and yen negative."
Stocks
S&P 500 Index futures rallied 0.7 percent, having earlier fallen as much as 0.3 percent. The U.S. benchmark has risen by an average of 0.85 percent on the day following the first debate in the run-up to a general election, according to data going back to 1992 compiled by Strategas Research Partners LLC. Opinion polls have swung by 3 percent on average, within most surveys' margin of error, following the first debates of election campaigns since 1984, Stategas noted.
The MSCI Asia Pacific Index was up 0.3 percent, after earlier dropping as much as 0.9 percent. Energy shares led gains, while a global selloff in bank stocks continued amid concern about the financial health of Deutsche Bank AG, Germany's largest lender. Financial markets in Taiwan were closed Tuesday owing to Typhoon Mehi.
Commodities
Crude oil slipped 0.1 percent to $45.89 a barrel in New York. It climbed 3.3 percent in the last session after tumbling 4 percent on Friday. OPEC members Nigeria and the United Arab Emirates backed reaching a deal to stabilize markets when the group meets Wednesday for talks in Algiers, while Venezuela's oil minister warned prices could tumble below $20 if major producers fail to agree measures. Saudi Arabia has offered to cut production as part of a broader agreement, while signaling it doesn't expect an accord this week.
Copper fell 0.4 percent in London as nickel dropped 1.6 percent. Gold fell 0.2 percent after edging higher on each of the last six days.