Kim Jong Un's test of an ICBM capable of striking the U.S. mainland is putting renewed pressure on a U.S. missile defense system racing to keep up with North Korea's quickly evolving military threat.
While the U.S. "completely obliterated" a mock intercontinental ballistic missile in a late May test of its $36 billion ground-based defense system, according to the Missile Defense Agency, outside analysts call those tests choreographed events that don't reflect real-world scenarios. That would require knocking down an unexpected launch, with a warhead possibly masked by sophisticated decoys launched under adverse conditions.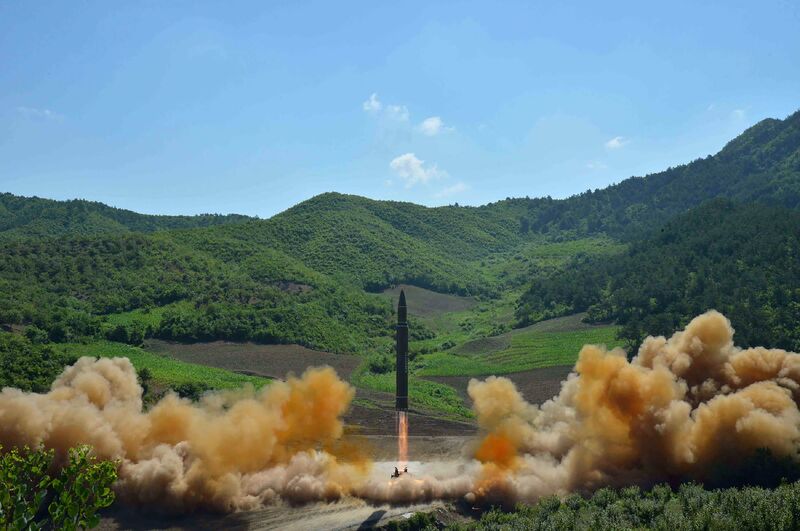 And while the two latest U.S. missile defense tests have succeeded, the two before that failed to destroy their target.
"Missile defense, even if it worked perfectly, is not a get out of jail free card," said Laura Grego, the senior scientist for the Global Security Program at the Union of Concerned Scientists, who follows missile defense issues closely. "The homeland missile defense system doesn't work perfectly and hasn't demonstrated a real-world capability."
Even missile defense advocates have concerns.
"It's a good thing to currently have a defensive capability against missile threats to the homeland, but make no mistake — relative to where we are today, the current program of record is not outpacing North Korea's ambitious missile efforts," said Tom Karako, a missile defense expert with the Center for Strategic and International Studies. "More will need to be to be done in the way of reliability, capability, and capacity improvements."
In the interim, that means President Donald Trump still needs more nonmilitary options to persuade Kim's regime to back down or face the potentially devastating repercussions of renewed war on the Korean peninsula, since any U.S. strike would prompt a North Korean fusillade against Seoul.
Marine General Joe Dunford, chairman of the Joint Chiefs of Staff, outlined to lawmakers last month the likely human cost of a pre-emptive U.S. military strike — Seoul residents would face casualties "unlike anything we've seen in 60 or 70 years" as North Korea retaliated. Seoul residents are "within range of thousands of rockets, missiles and artillery pieces along the border," he added.
The Pentagon said Wednesday that North Korea's July 3 missile test was of a variant not previously seen, with a range in excess of 5,500 kilometers (3,400 miles). Even though that's only about half the distance to Washington and would fall short of reaching Hawaii, it is approximately the distance to Anchorage, Alaska.
No 'Fig Leaf'
While North Korea claimed previous missile launches in 2006, 2009 and 2012 with an ICBM-class missile were to test commercial satellite launch capabilities, Sunday's launch "didn't even have that fig leaf of legitimacy," Navy Captain Jeff Davis, a Pentagon spokesman, told reporters Wednesday. "This was very clearly an ICBM."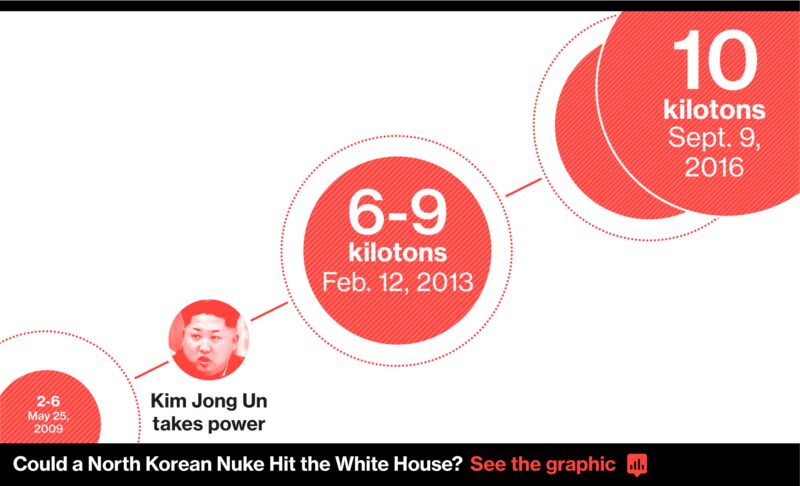 But one successful test doesn't mean North Korea has worked out all the bugs in its system, or that its missiles can deliver miniaturized warheads.
"We've still not seen a number of things that would indicate a 'full-up' threat," meaning North Korea can demonstrate "the ability to mate a nuclear warhead to the missile," Davis said. "Clearly they seek to do it. This is an aggressive research and development program."
Davis's comments followed a Defense Intelligence Agency assessment in May that North Korea must still overcome "important shortfalls" in developing a nuclear-armed ICBM.
In May, Vice Admiral James Syring, the Missile Defense Agency director, said the latest U.S. test showed the military's ability to "outpace the threat" and that a new warhead to be deployed by 2019 "will be the next step to improving reliability and performance against the evolving threat."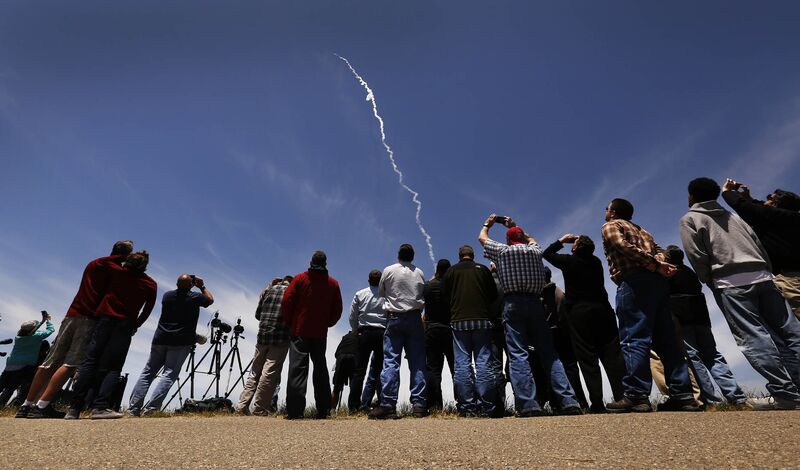 The Pentagon's combat testing office said the May 30 test was the most realistic to date. David Duma, the office's acting director, wrote Defense Secretary Jim Mattis on June 6 that based on the positive test results and improvements to U.S. sensors and radar, his office upgraded its assessment of the system's potential effectiveness.
Since 2012 the test office said the system possessed only a "limited" capability to defend the U.S. from small numbers of North Korean ICBMs. Duma told Mattis the ground-based system now has demonstrated the capability to defend the homeland from a small number of ICBMs when the U.S. "employs its full sensors/command and control."
Floating Radar
In the last Pentagon test, the element of complete surprise was missing. Army National Guard personnel who conducted the intercept from a U.S. Northern Command site in Colorado were aware the test was scheduled within a launch window of several hours, Syring said, although they weren't tipped off when the dummy missile was launched.
Instead, they were alerted to the launch per standard procedure by the early warning SBIRS satellite and cued by tracking radar on Wake Island in the Pacific and an X-band precision radar floating in the Pacific on a platform.
With pressure growing on the Trump administration days before the president meets Chinese leader Xi Jinping in Germany, U.S. Ambassador to the United Nations Nikki Haley demanded an emergency Security Council hearing Wednesday afternoon on the North Korean threat. While Trump has called on China to do more to rein in its neighbor and trading partner, the U.S. president has shown increasing frustration with Beijing.
"Trade between China and North Korea grew almost 40% in the first quarter. So much for China working with us – but we had to give it a try!," Trump said in a Twitter post Wednesday, just before departing for a meeting of the Group of 20 nations in Europe.
Kim, however, is unlikely to be deterred by diplomacy, sanctions or U.S. threats.
"Kim views nuclear weapons as a key component of regime survival and a deterrent against outside threats, Scott Bray, the National Intelligence Manager for East Asia at the Office of the Director of National Intelligence said in a June 26 speech. "Kim probably judges that once he can strike the U.S. mainland, he can deter attacks on his regime and perhaps coerce Washington into policy decisions that benefit Pyongyang and upset regional alliances — possibly even to attempt to press for the removal of U.S. forces from the peninsula."