Stocks were mixed on Tuesday as Japan and South Korea reopened, while Treasury yields were steady as trading recommenced after holidays. The dollar declined and Turkey's lira maintained losses amid tensions with the U.S. that sent it plunging on Monday.
The Kospi index in Seoul staged a catch-up rally after a week-long holiday. Tokyo shares climbed after a three-day weekend. A Japanese subindex of iron and steel companies dropped after Kobe Steel Ltd. admitted to falsifying some data. The S&P 500 Index slipped in light trading on Monday with many markets shut and as investors assessed political developments in Washington before the start of earnings season and the release of minutes from the most recent Federal Reserve meeting. The dollar snapped a winning streak as it fell against major peers.
The onshore yuan gained the most since Sept. 8 with volatility rebounding after the People's Bank of China strengthened the fixing and the central bank governor called for a more market-based foreign-exchange rate mechanism. Investors are also anticipating the Communist Party's twice-a-decade congress due to start on Oct. 18 in Beijing.
Global stocks are trading near a record high and Treasury yields have climbed off the September lows as traders bet the Fed will lift rates in December. Asian equities have beaten their U.S. counterparts this year, and still trade at the biggest discount to American shares in 15 years.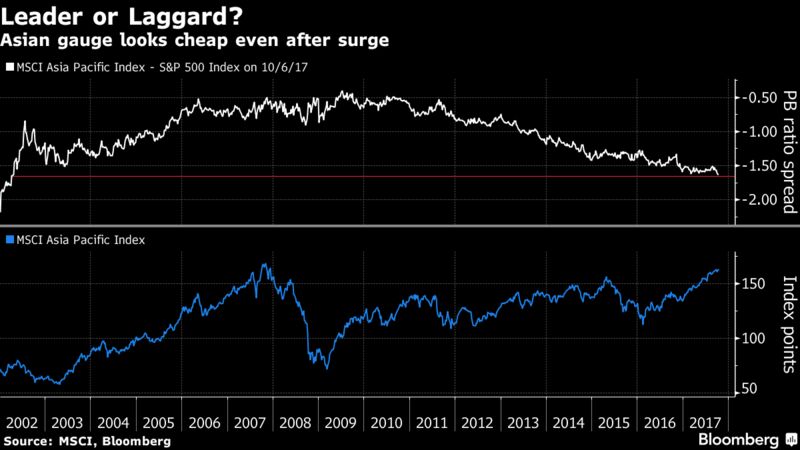 Spanish assets will be in focus again on Tuesday. Catalan President Carles Puigdemont will make a declaration of gradual independence when he addresses his parliament Tuesday, Efe reported, without citing anyone. The announcement will include a constituent process without a regional assembly vote and will call on negotiations with Madrid.
Terminal subscribers can read more in our Markets Live blog.
What's coming up this week:
Japan's current-account surplus widened slightly in August from a month earlier, supported by investment and dividends from overseas and the tourism boom. The surplus was 2.38 trillion yen ($21.1 billion) versus a forecast of 2.22 trillion yen.
Minutes from the most recent Federal Reserve meeting are due Wednesday.
The International Monetary Fund and World Bank hold their annual fall meetings this week.
Earnings season begins for major U.S. banks, led by JPMorgan Chase & Co., Citigroup Inc., Bank of America Corp. and Wells Fargo & Co. Also reporting will be BlackRock Inc., Domino's Pizza Inc., Samsung Electronics Co., German container company Gerresheimer AG, U.K. grocery wholesaler Booker Group Plc, and Sky Plc.
The active Atlantic hurricane season will probably figure prominently in U.S. data on retail sales and consumer prices.
Here are the main moves in markets:
Stocks
Japan's Topix index gained 0.4 percent as of 2:18 p.m. Tokyo time. The Iron and Steel Index tumbled 2.3 percent. Kobe Steel shares were untraded, poised to slump by the daily limit, after the company said it had falsified data on some aluminum and copper parts products.
The Kospi climbed 1.6 percent, while Australia's S&P/ASX 200 Index closed flat.
Hang Seng Index was little changed as was the Shanghai Composite Index.
Futures on the S&P 500 Index were little changed. The underlying gauge fell 0.2 percent for its first back-to-back losses since September.
The MSCI Asia Pacific Index rose 0.5 percent.
Currencies
The Bloomberg Dollar Spot Index lost 0.2 percent, heading lower for a third day.
The yen was little changed at 112.65 per dollar
The euro rose 0.3 percent to $1.1772.
The Turkish lira was little changed after tumbling on Monday.
Bonds
Yields on 10-year Treasuries added about one basis point to 2.37 percent.
Yields on Australian 10-year bonds rose one basis point to 2.83 percent.
Spain's 10-year yield dipped three basis points to 1.68 percent on Monday.
Commodities
West Texas Intermediate crude was slightly higher at $49.66 a barrel. It rose 0.6 percent on Monday.
Gold futures added 0.2 percent to $1,287.11 an ounce after advancing 0.6 percent in the previous session.