An equities rally spurred by the Federal Reserve's outlook found some life in Asian emerging markets, even amid a slump in Japanese and U.S. shares. The dollar was steady after a two-day decline.
Stocks in Indonesia reached a record and markets from Malaysia to South Korea climbed. Shares in Tokyo slumped, weighing down the MSCI Asia Pacific Index after its biggest gain since November. The S&P 500 Index's post-Fed rally ran out of steam after the gauge climbed to within 0.5 percent of an all-time high. The pound retreated after Thursday's gains spurred by some Bank of England policy makers saying they may not be far behind Kristin Forbes who's leaning toward raising interest rates. Treasuries maintained Thursday's declines.
Global stocks are on course for the best week since January after the Fed raised its benchmark lending rate a quarter point without accelerating the timetable for future hikes. Investors largely anticipated the tightening and Treasury yields had climbed with the dollar on speculation the central bank might signal a faster pace of tightening. China's central bank also raised borrowing costs this week and the Bank of Japan left its monetary policy setting unchanged.
Volatility is retreating across the globe after the central bank policy decisions. At the same time, the defeat in this week's Dutch elections of anti-immigration candidate Geert Wilders is being seen as a blow to populist political leaders, easing concerns ahead of French elections. A gauge of volatility on the Euro Stoxx 50 Index plunged 26 percent on Thursday, the most on record.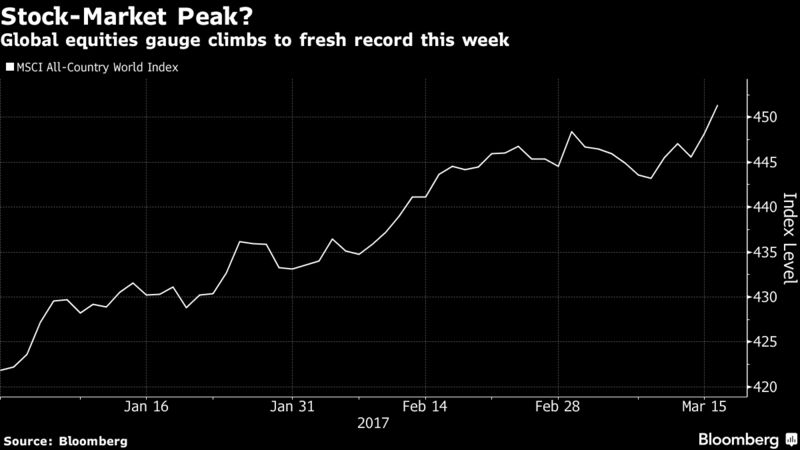 What investors will be watching:
The focus Friday will be a meeting between Donald Trump and Angela Merkel, while Steve Mnuchin attends his first G-20 finance chiefs gathering in Germany as U.S. Treasury secretary. He repeated his view on Thursday in Berlin that the long-term strengthening of the dollar is in the best interest of the U.S. economy and that it reflects confidence in the world's reserve currency.
Rex Tillerson continues his first trip through Asia as U.S. secretary of state, stopping in South Korea before heading to Beijing. At a joint briefing in Tokyo with Foreign Minister Fumio Kishida, he called for a strong alliance between the U.S., Japan and South Korea to counter Kim Jong Un's regime.
Economic data on Friday will include U.S. industrial production for February, while Tiffany & Co. is scheduled to release earnings.
Read our Markets Live blog here.
Here are the main moves in markets:
Stocks
The MSCI Asia Pacific Index retreated 0.2 percent as of 12:21 p.m. in Tokyo, after closing Thursday at the highest level since June 2015. Japan's Topix fell 0.5 percent, heading for a weekly decline.
The MSCI Emerging Markets Index rose 0.2 percent. The Jakarta Composite Index gained 0.2 percent to a record, after a 1.6 percent surge on Thursday. Malaysia's benchmark jumped 0.7 percent. Both markets are up more than 1.8 percent for the week.
New Zealand's S&P/NZX 50 Index increased 0.2 percent. Australia's S&P/ASX 200 Index rose 0.4 percent. South Korea's Kospi gained 0.3 percent.
Hong Kong's Hang Seng and the Hang Seng China Enterprises Index added at least 0.3 percent, after soaring the most since May on Thursday.
The S&P 500 slipped 0.2 percent Thursday, while the Stoxx Europe 600 Index rose 0.7 percent.
Currencies
The yen edged lower to 113.46 per dollar, down 0.1 percent. The Bloomberg Dollar Spot Index was little changed after dropping 0.2 percent on Thursday on top of a 1.3 percent post-FOMC drop. The gauge is down 1.2 percent for the week.
The pound slipped less than 0.1 percent to $1.2354. The currency is up 1.5 percent for the week, its biggest gain since January.
Bonds
The yield on 10-year Treasuries fell less than one basis point to 2.54 percent, after rising five basis points on Thursday. The rate dipped below 2.50 percent following the Fed decision. It traded above 2.60 percent earlier in the week.
Australian 10-year yields rose for the first time in five days, climbing four basis points to 2.86 percent. The rate tumbled 10 basis points on Thursday.
The yield on New Zealand's benchmark advanced three basis points to 3.28 percent, after also dropping 10 basis points in the previous session.
Commodities
Oil advanced 0.2 percent to $48.84, heading toward its first weekly gain in three weeks.
Gold was steady after a two-day gain, trading at $1,226.80 an ounce and poised for a 1.8 percent increase for the week.