The dollar surged the most since the day after the U.K.'s vote to leave the European Union as Donald Trump's conciliatory victory speech calmed market participants reeling from the shock result in the U.S. presidential election.
The greenback rallied against most major peers and against emerging-market currencies as traders bet that a Trump administration combined with a Republican Congress will ramp up sending and spur economic growth. The market-implied probability of a December interest-rate hike by the Federal Reserve, which had fallen to less than 50 percent as results pointed to a Trump triumph, jumped above 80 percent.
The Republican's win is the second major jolt to currency markets in less than five months after Britain voted in June to exit the EU. As Trump took the stage just before 3 a.m. New York time, the greenback had already begun recovering from declines of as much as 3.8 percent against the yen, a traditional haven during times of turmoil.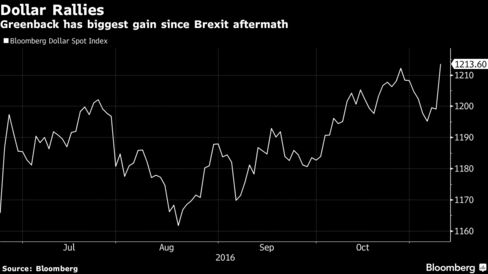 "With no further escalation in political risks expected before the presidential inauguration next January, investors will increasingly focus on the December Fed meeting," said Valentin Marinov, the London-based head of Group-of-10 currency strategy at Credit Agricole SA's corporate- and investment-banking unit.
A Bloomberg gauge of the dollar gained 1.4 percent, the most since June 24, and reached the highest since March. The greenback rose 0.5 percent to 105.67 yen as of 5 p.m. in New York. It rose 1.1 percent to $1.0910 per euro, after plunging more than 2 percent.
The turbulence sparked a surge in trading. From 2 a.m. to 3 a.m. London time, activity in the euro-dollar pair was 10 times this year's average for that span, while volume for the dollar-Mexican peso cross was 63 times normal levels, according to data from CLS Group Holdings AG, operator of the world's largest currency-trading settlement system.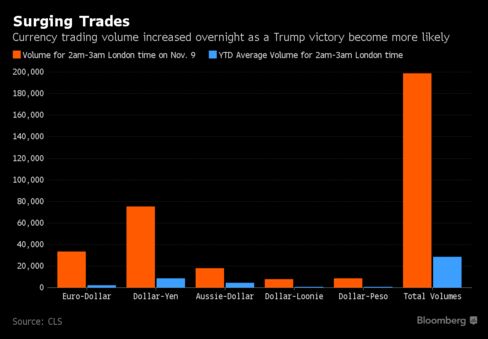 Activity on FXSpotStream LLC's venue surged to a record $47.5 billion Wednesday, Alan Schwarz, the company's chief executive officer, said by phone. That's almost triple the average daily volume in October, and the most since the system came online in 2012.
Sea Change
The victory by Trump, 70, is expected to spur a sea change in U.S. policies that directly affect the dollar, as his party also secured majorities in both chambers of Congress. The real estate magnate has promised to tear up trade agreements, called China the "grand master" of currency devaluation and has argued that a strong dollar damages American competitiveness.
"The speech did calm the market down," said Stephane Marie, head of foreign-exchange dealing operations at Swissquote in Gland, Switzerland. "So far, we only saw the eccentric, megalomaniac Trump and people were expecting, as was I, a very aggressive speech. But his speech was professional and presidential. It was a surprise."
While most analysts predicted the dollar would suffer in the immediate aftermath of a Trump win, Julius Baer Group Ltd. and Rand Merchant Bank, the first- and second-most-accurate currency forecasters in a Bloomberg survey, said the greenback would rally in the longer run. That's on the view that Trump's proposals, including pledges to cut taxes and spend as much as $500 billion on infrastructure, are inflationary and would lead to higher U.S. rates and bolster the dollar's allure.
Offshore Cash
Trump's plan to lure American multinationals such as Apple Inc. and Microsoft Corp. to bring billions of offshore cash home would ultimately drive demand for the dollar, John Cairns, a strategist at Rand Merchant in Johannesburg, said before the election.
The president-elect has also accused Fed Chair Janet Yellen of playing politics, saying she's kept rates too low during President Barack Obama's tenure, suggesting he may nominate someone else to lead the central bank once her term ends in 2018.
The U.S. currency has risen since mid-August as signs of faster economic growth and accelerating inflation fueled bets on Fed hikes. The gains follow a two-year, 20 percent rally that came to a halt this year as policy makers scaled back the projected pace of rate increases amid inconsistent data.
"We're really, for a while, going to be in uncharted territory because we don't know how much additional volatility asset markets and economic outcomes are going to attain because of this event," said Steven Englander, global head of Group-of-10 currency strategy in New York at Citigroup Inc., the world's biggest foreign-exchange trader.