Oil traded below $45 a barrel before major producers meet to discuss output constraints in Algiers, while Asian stocks dropped and the dollar strengthened versus most peers.
Crude fluctuated after sinking 2.7 percent in the last session as speculation built that Wednesday's OPEC meeting in the Algerian capital will do little to address a global glut. Japan's Topix index slumped the most in eight weeks as most of its member stocks began trading without the right to a dividend, while Taiwan markets were shut for a second day owing to a hurricane. A gauge of the greenback's strength rebounded from a two-week low and sovereign bonds advanced in Australia and New Zealand.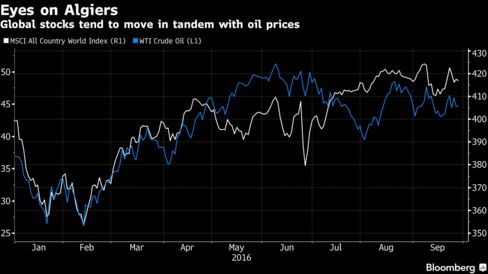 Crude has been volatile over the past week, swinging in tune with prospects of a deal in Algiers. Saudi Oil Minister Khalid Al-Falih said Tuesday there were a number of potential market stabilization pacts being discussed, but that a deal on Wednesday was unlikely. The comments came as Iran signaled it was unwilling to freeze production and wanted to raise output to 4 million barrels a day.
"OPEC members are peddling their self interests, and while that's the case, there can't be a cooperative effort," said Michael McCarthy, chief market strategist in Sydney at CMC Markets. "There is little possibility of that coming together. Oil is trapped between $40 and $50 a barrel, and at this stage, there doesn't appear to be anything on the horizon to break prices out of that range."
U.S. data on Wednesday are forecast to show durable goods orders fell in August for the third time in four months, underscoring persistent weakness among American manufacturers. European Central Bank President Mario Draghi is due to speak at a conference in London and Federal Reserve Chair Janet Yellen will testify before the House Financial Services Committee.
Commodities
West Texas Intermediate crude was little changed at $44.68 a barrel as of 10:55 a.m. Tokyo time, having posted swings of more than 2 percent for each of the last five days. Prices are steadying after industry data indicated U.S. supplies fell by 752,000 barrels last week.
Saudi Arabia's Al-Falih said that Iran, Nigeria and Libya "have special conditions" when it comes to any pact on output. The Algiers discussions are being held against a backdrop of a worldwide crude glut and the International Energy Agency says supply and demand won't be in balance until late 2017.
Gold declined 0.1 percent after sliding 0.8 percent on Tuesday.
Stocks
The MSCI Asia Pacific Index declined 0.9 percent, set for the biggest loss in two weeks. The Topix fell 1.7 percent as some 1,095 stocks on the gauge trade without the right to a dividend on Wednesday.
Hong Kong's Hang Seng Index slipped 0.6 percent. Postal Savings Bank of China Co. edged up 0.2 percent as it made its trading debut following the world's biggest first-time share sale of the year.
Futures on the S&P 500 Index declined 0.2 percent after the underlying index gained 0.6 percent on Tuesday, led higher by technology and consumer stocks. Sentiment improved in the last session as a report showed American consumer confidence rose to the highest level since 2007 and shares of Deutsche Bank AG stabilized following their slump to a record low.
Currencies
The Bloomberg Dollar Spot Index rose 0.1 percent, gaining for the first time this week. New Zealand's dollar weakened 0.3 percent versus the greenback, the biggest loss among 16 major currencies.
The ringgit dropped 0.4 percent, set for its lowest close in a week, as Tuesday's drop in oil prices worsened prospects for Malaysia, Asia's only major net exporter of crude.