Asian stocks rallied, led by a surge in mining companies, after evidence of quickening price growth in China boosted metals and other commodities.
Raw-materials shares in Asia rose toward their highest level in almost a month amid gains in copper to iron ore on Chinese producer-prices data out Tuesday. While oil edged higher, it remained near a one-month low amid concern the U.S. is raising its output forecast just as OPEC members start to cut production. Hong Kong equities extended gains for a fifth straight day and the yen snapped a two-day climb.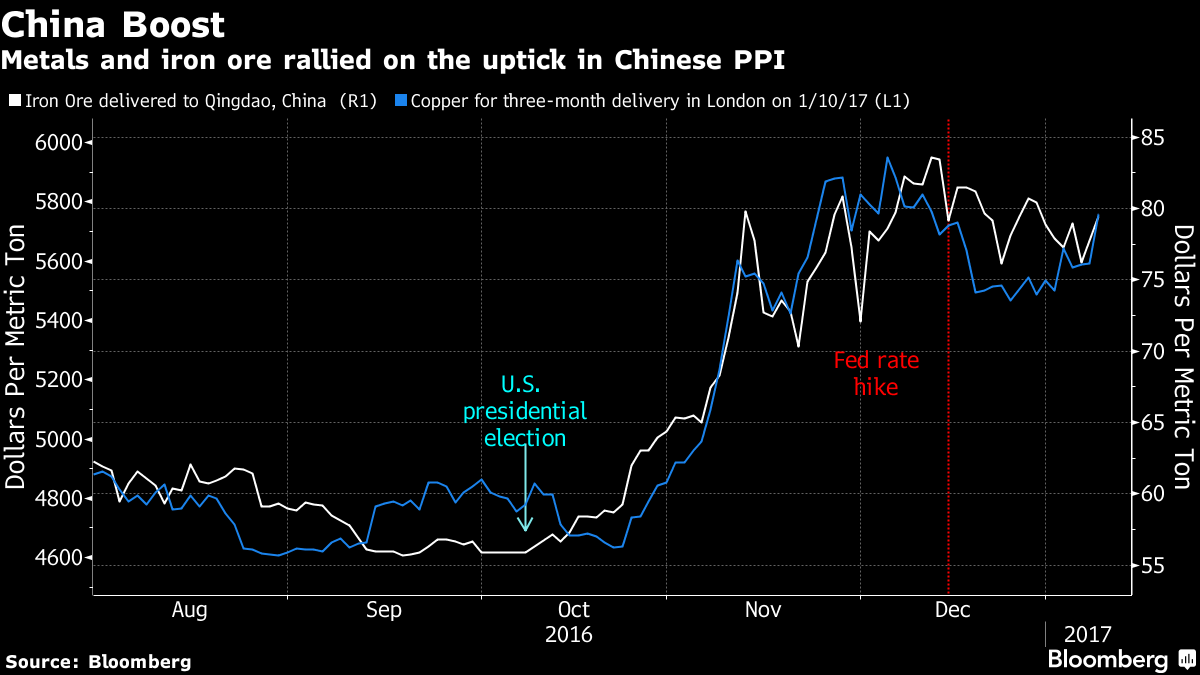 The fastest pace of growth for Chinese producer prices in five years propelled gains in industrial metals and other raw materials on prospects the world's second-largest economy will export inflation around the world via its supply chains. The data came amid a sense of caution in U.S. markets as the euphoria over President-elect Donald Trump's perceived pro-growth policies faded. Investors will be watching Trump's first press conference for details on his policy outlook.
"I expect China to maintain stability in its economy," said Naoki Fujiwara, chief fund manager at Shinkin Asset Management Co. in Tokyo. "In the mid- to long term, for commodities including precious metals there'll be investment from Chinese domestic demand. We don't know how the market will react to Mr. Trump's press conference at the moment, so we're in a wait-and-see situation."
Stocks
The dollar-denominated MSCI Asia Pacific Index climbed 0.2 percent as of 11:52 a.m. Tokyo time, with raw-material stocks up 1.7 percent and Japan's Topix index rallying 0.5 percent.
Miners and technology shares led Australia's S&P/ASX 200 Index up 0.4 percent. The Kospi index gained 1.3 percent in Seoul, and equities in New Zealand climbed for a third day.
Hong Kong's Hang Seng Index rose 0.7 percent, heading for a fifth straight gain, which would be the longest winning streak since July. The Hang Seng China Enterprises Index increased 0.7 percent. The Shanghai Composite Index fell 0.2 percent.
E-mini futures on the S&P 500 were little changed. The S&P 500 closed unchanged at 2,268.90 Tuesday. The Dow Jones Industrial Average fell 0.2 percent to 19,855.53.
Currencies
The Bloomberg Dollar Spot Index, a gauge of the greenback against 10 major peers, added 0.2 percent.
The yen weakened 0.4 percent to 116.22 per dollar following a two-day advance of more than 1 percent.
The won lost 0.2 percent to 1,197.88 per dollar, while the lira sank 0.6 percent.
Bonds
Yields on Australian government bonds due in a decade rose by two basis points, or 0.02 percentage point, to 2.73 percent after shedding five basis points last session.
Similar maturity Treasuries yielded 2.39 percent, up another basis point.
Commodities
West Texas Intermediate crude gained 0.3 percent to $50.95 a barrel after sliding almost 6 percent over the past two days.
Analysts project U.S. crude stockpiles rose by 1.5 million barrels last week, muting optimism fueled by Russia, Iraq, Kuwait, Kazakhstan and Azerbaijan saying they're implementing last year's accord to cut production. Data on supplies are due late Wednesday.
Iron ore futures jumped 2.8 percent after a 5 percent rally on Tuesday. Copper was little changed in London following a 3 percent surge.
Gold for immediate delivery was off 0.1 percent at $1,186.74 an ounce, near the highest level since November.